Faversham Life interviews Francesca Baur of Fable and Base, a textile designer inspired by the Kent countryside.
Francesca Baur, a Faversham resident, set up Fable and Base in Whitstable, just over a year ago. Her designs have a pleasing naive simplicity. All fabrics are made to order to avoid waste and are hand-printed in a limited colour palette using eco-friendly, water-based dyes approved by the Soil Association. 'I embrace our planet by only working with natural materials, including linen, hemp and organic cotton cloths'.
Francesca has textiles in her blood. Her grandfather moved to England from Munich where he had been an agent for Spitzenhaus (lace house) Klauber in 1930. He established a lingerie business in Regent Street and Great Sutton Street, which he ran until the 1970s when textile production started going overseas. Her family then moved to Kent, and her parents set up Ripple Organics, one of the first organic farms. Growing up in such an environment had an enormous influence. 'A big part of my work is about connecting to the local area and incorporating plants indigenous to Kent in my fabrics. My dad, started one of the first box schemes, and was an early proponent of salad bags containing edible flowers'. It is hardly surprising to discover that Francesca grows natural dyes, woad, weld and indigo on her allotment in Faversham.
After studying printed textiles at Middlesex Art College, Francesca worked as a freelance textile designer for some years in London, as well as training to teach textile design. This was followed by a period creating mosaics. She and her partner, who is a stage technician at the Royal Opera House in London, moved to Faversham when she was pregnant with their third child. 'It's a hidden gem'. Initially she taught at Ashford College, but 'I had had the idea burning in my head for some years to set up a textile studio with a repeat print table. It combines my love of textiles, teaching and my interest in sustainability'.
Francesca hard at work hand printing one of her designs.
Her account of how she raised the funds to start Fable and Base is extraordinarily impressive. It includes obtaining an eco-renovation grant from the European Funding Carbon Trust as well as a crowd funding campaign supported by the Royal Society of Arts.
Francesca's interest in 20th century Scandinavian design is evident in her first collection which includes Woodland a charming medley of graceful pheasants, individual leaves and stylised sprays of leaves and Fable Bird which has a slight hint of Festival of Britain about it.
The second collection grew out of an Arts Council project taking people on foraging walks in the Oare marshes, and to the 3,200 acre Elmley Bird Reserve on the Isle of Sheppey. 'A botanist took us on a walk and I then taught a screen printing workshop in a barn on the reserve'. The resulting designs incorporate sea lavender, samphire, and phragmite reeds which are very characteristic of British wetlands and are an important habitat for many birds. 'I like to think my workshops are a way of giving back. Connecting the participants to their natural surroundings, whilst discovering pattern and colour on walking and foraging print workshops'. Some are held in the Whitstable studio, others on location.
Subsequently Elmley has commissioned Fran to print the fabrics for their shepherd huts which can be rented by the night to stay in.
Francesca is currently working on a project for the Channel 4 programme Building the Dream designing fabrics for a house being built in Barham, Kent     ©Neil Brown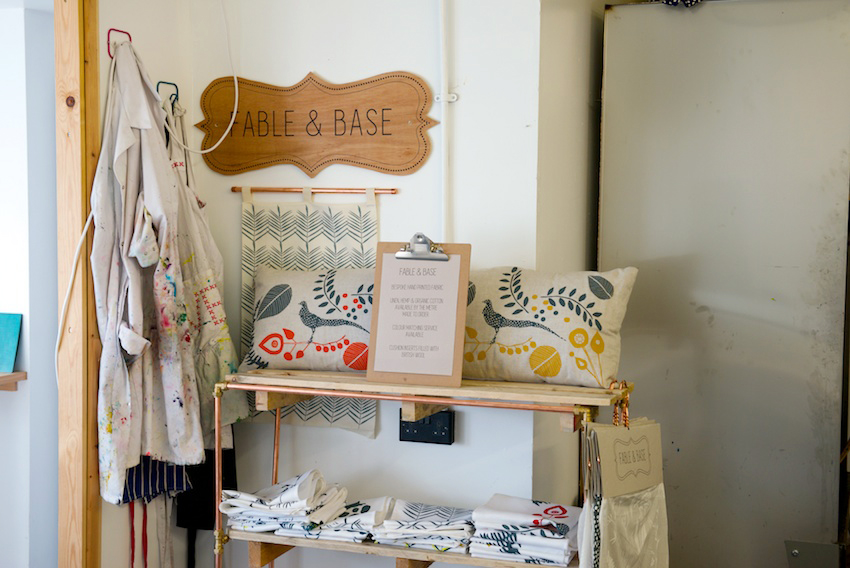 Fable and Base offers a bespoke service colour matching the designs to suit a client's interior. All the textiles can be used for upholstery, curtains and blinds     ©Lisa Valder
Text: Amicia       Photographs: Lisa, and Neil Brown.