Creation and accident: Faversham Life meets sculptor Jeff Lowe
Words Posy Gentles Photographs William Ford
The sculptor Jeff Lowe lives in The Lime Works, the converted water softening plant on the Syndale Valley road. It was built in the 1930's, judged unfit for purpose in 1942, and considered so ugly that scots pines were planted to hide it. There it stood, unblinking and derided for decades, waiting. Years ago, Jeff saw it and noted it when he whizzed down the M2 on his way to teach at Canterbury Art College.
As I drove up to interview Jeff at The Lime Works, it seemed to me (who has never been to California) like somewhere in California, like somewhere Jean Harlow might have lived: its terraces and palms, the art deco sweeps and curves, the two vast circular funnels rising out of the hillside flanking the central tower, the sheets of glinting glass, and behind and above, the ridge of poplars with glittering copper spring leaves scintillating against a sky too azure for these climes. Jeff's sculptures were huge on the terraces, small and intimate on winding concrete staircases, waiting to be moved to new owners and exhibitions in a large light building behind, and in the process of creation in his studio.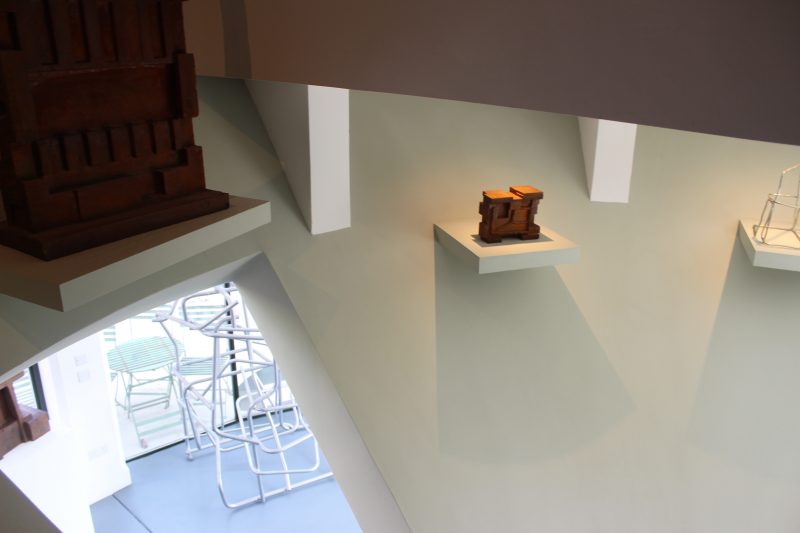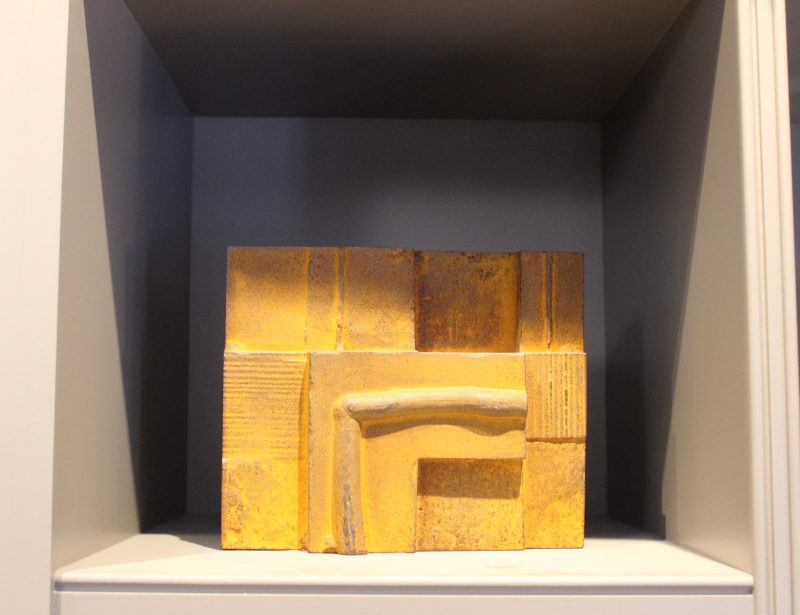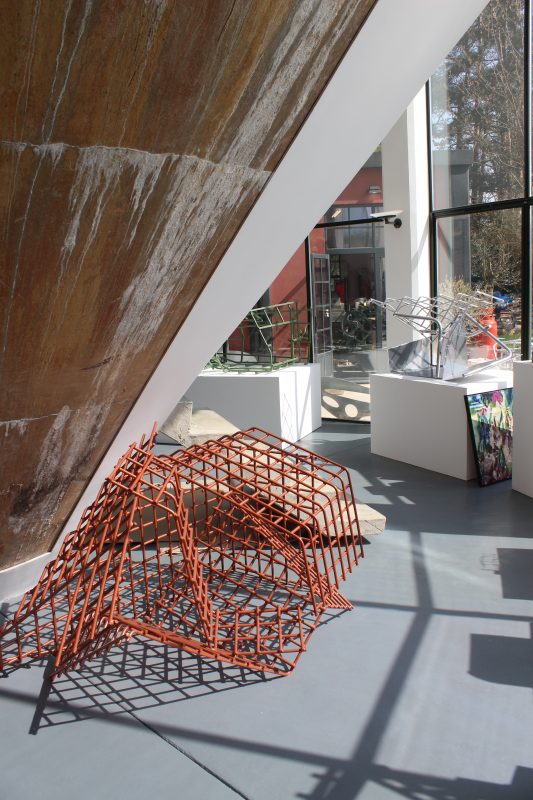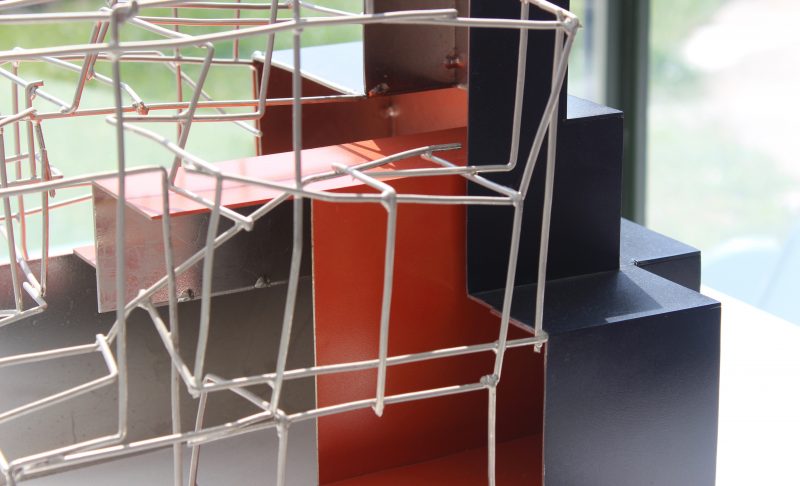 At The Lime Works, it is impossible to unravel place and sculpture – the one is indivisibly affected by the other. Jeff's recent work is undulating and light, aluminium with areas of rose-pink, coral-red, gold, white or lilac paint, curved into and around itself, containing, attached and visibly riveted, with cut-out slots, ellipses and circles to glimpse through the layers. Jeff says: 'I used to like right angles. I worked with heavy materials resistant to bending. It's the first time I've used aluminium. It's light and fast to work with, almost like collage. I rarely used colour or curves before. I think the curves come from the house and being in the countryside.'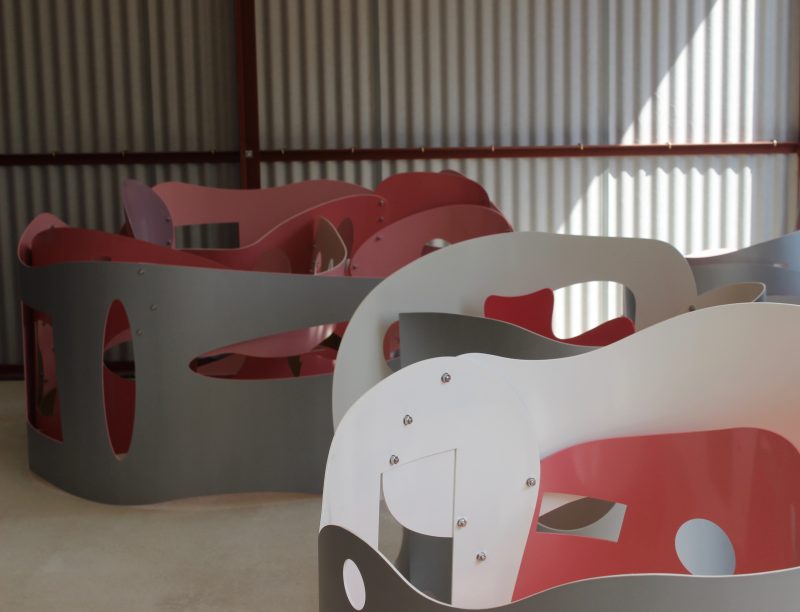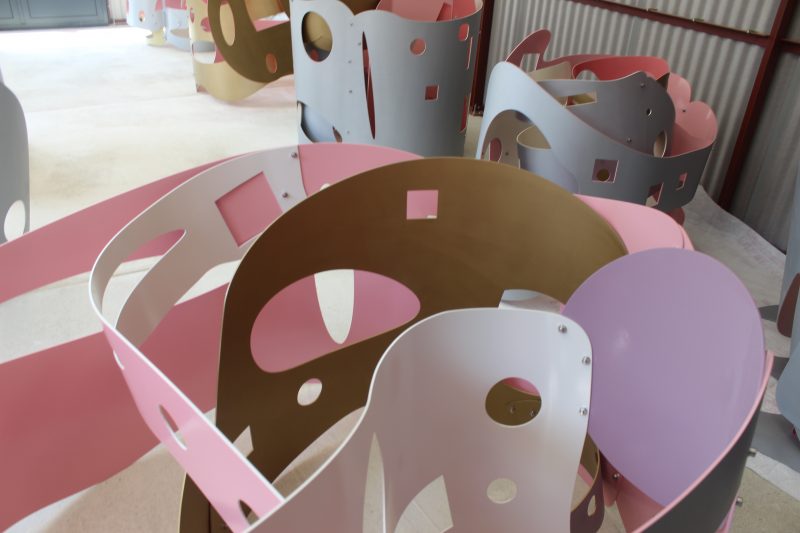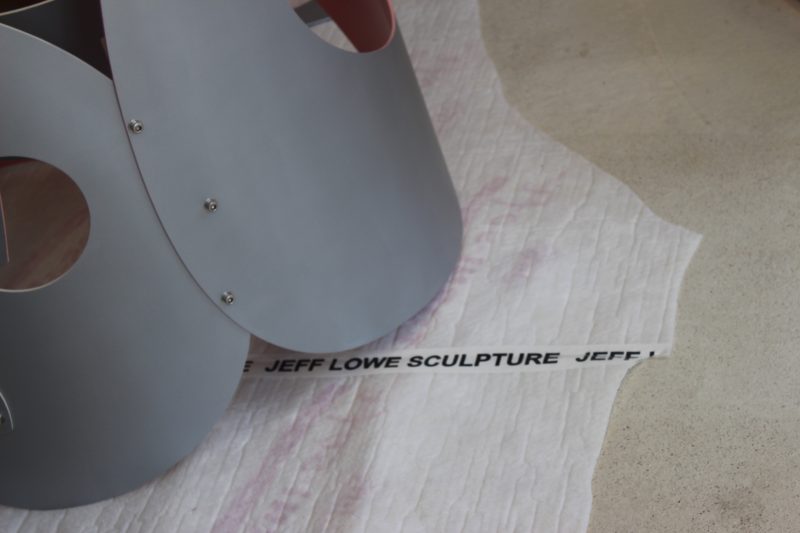 Throughout his life, Jeff has created places to work and live. Early on, he persuaded Alistair McAlpine, of the construction company and a significant art collector at the time, to build him a studio in Greenwich. Jeff has created studios  in Forest Hill, Brockley and still has a place in Portugal: 'I like to live in a place like a village,' he says. He builds as he sculpts. 'I can't design things. I like to see them as they develop. My background is visual. I use my eyes not my head.' Accidents will happen and that's how Jeff prefers it. 'Being overly conscious of what you do doesn't work. It's boring,' he says. 'I have to let the thing go its way, otherwise it becomes an idea. Computers are the kiss of death to creativity.'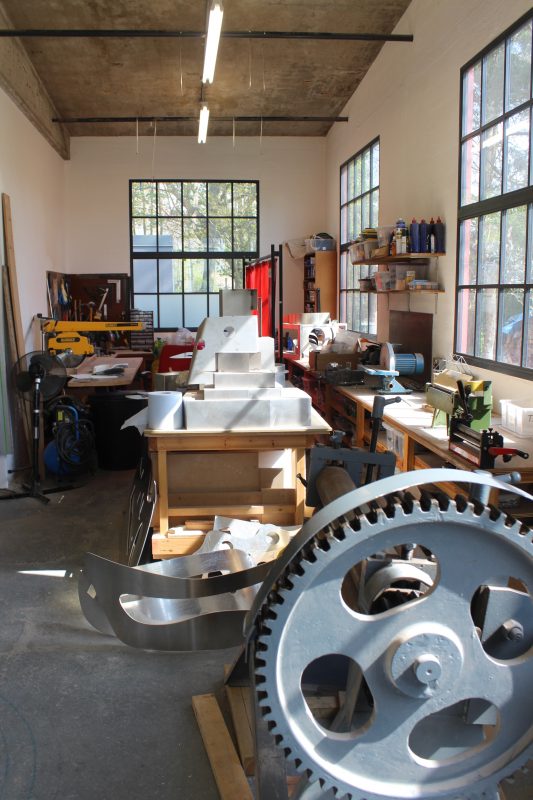 Each of his pieces happens in its creation and is not repeated. Jeff makes prints but only one of each, building the colours onto the cut wooden block and reprinting as the colours layer together making new things happen, using liner ink, then acrylic. 'There's an element of accident in that.'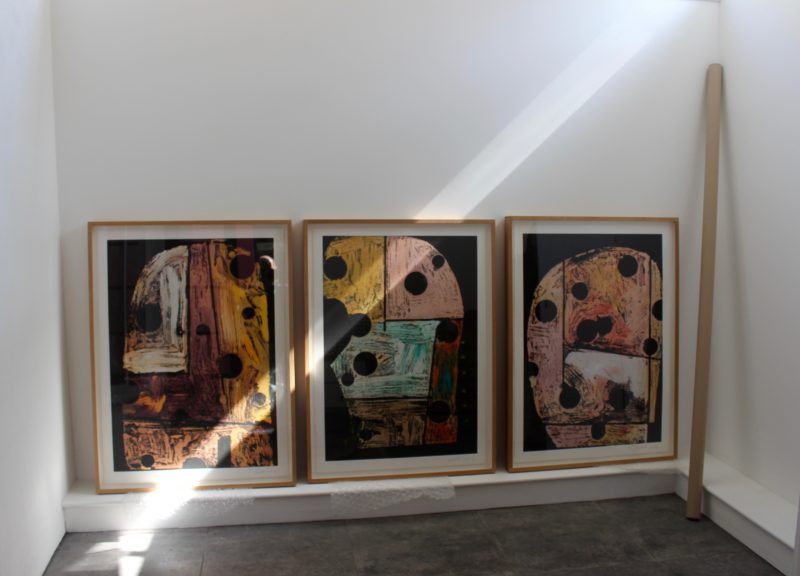 He says: 'I hate the idea of being a "printmaker". Picasso made pots but he wasn't a ceramicist. He was an artist who used clay. I don't want to be a manufacturer. When I've learnt what I want to learn, I'll move on.' An early admirer of Henry Moore, Jeff says: 'The best Henry Moore pieces were those he touched. He lived around here for a time and you can see his forms were influenced by the flints found in the chalky downs.'
Jeff will be exhibiting his recent work at Overlap, an exhibition which opens on 7 May at Linden Hall Studio Gallery in Deal. He is showing with the painter Eugenie Vronskaya whom he met 30 years ago. Instead of pitching up with a selection of already-existing paintings and sculpture, they elected to work together for a brief but intense period at The Lime Works studio, Eugenie working at one end exploring the spirit of the sculpture in her painting, and Jeff at the other.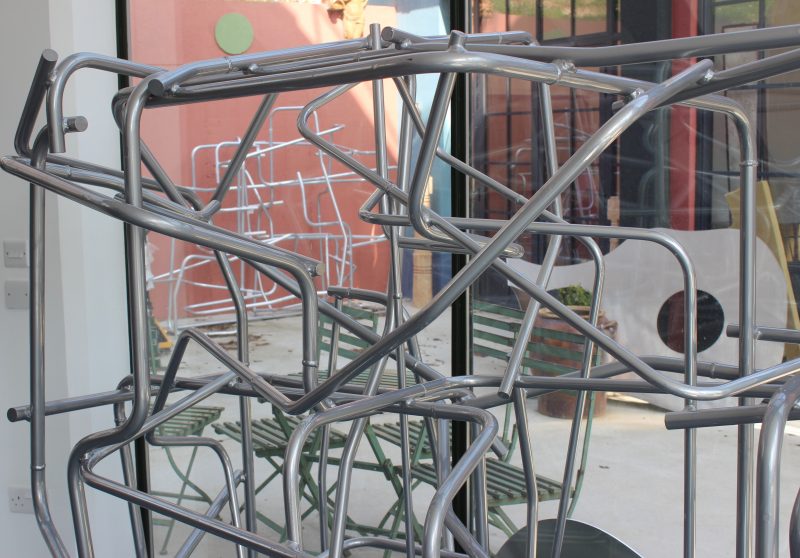 Sculpture has been Jeff's life since he abandoned the guitar at 15. He remembers the moment when he saw Anthony Caro's sculpture, Early One Morning, when it was exhibited at The Hayward when Jeff was 16. 'I was offended, but intrigued by it. The sculpture had no plinth. It was on the floor, in the space we inhabit and carved out of space.'
Things moved fast then. By the time he was 17 at Leicester College of Art, his work was seen by Caro and William Tucker who invited him to go to St Martin's School of Art. He arrived to find himself taking part in The Locked Room programme. The students were locked in a studio every day for eight hours. They weren't allowed to leave the room, and were under constant surveillance. Each student was given one particular material – Jeff was given a block of polystyrene – with which they had to work and were given no critical feedback from their tutors.
An article in Tate Etc. magazine described the experiment: 'The programme, known familiarly as The Locked Room, represented one of the most radical episodes in British art education. The students began their academic careers with an attempt to erase tradition, art history and even, at times, their own work. Under the direction of tutors Peter Kardia, Garth Evans, Gareth Jones and Peter Harvey, The Locked Room was a prescient response to the emerging conceptualisation of art practice in a post 1968 world. The students were, essentially, starting from scratch. Such a tabula rasa was intended to provide an alternative to traditional teaching methods. Kardia said: "I wanted to put them in an experiential situation where they couldn't grasp what they were doing. What I wanted was existence before essence".'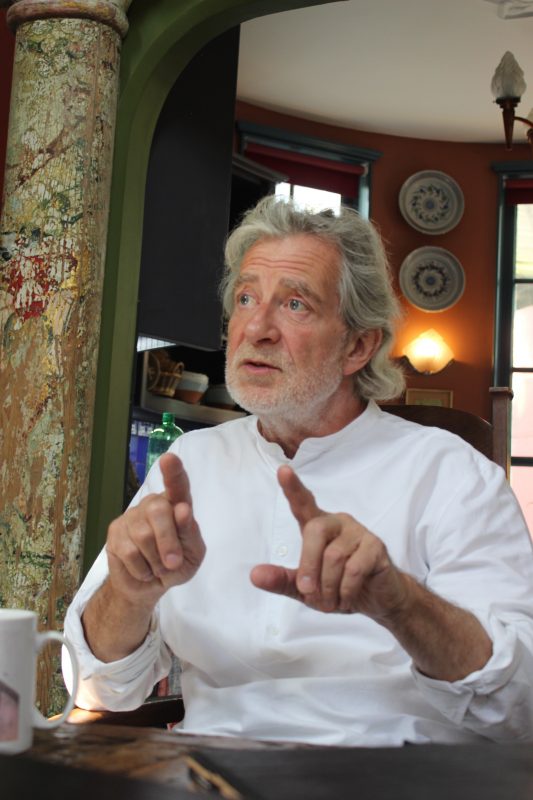 Jeff was unimpressed but maybe amused: 'To be honest, I think I wasted a year of my life.' Funding himself by working for three hours as a cleaner before college each morning, Jeff's fortunes changed when the Leicester Galleries in Cork Street saw his work at the New Contemporaries Exhibition and offered him a one-man show in 1974. The Paris Biennale followed and the Sainsbury's Award in 1975. He has exhibited and sold work internationally ever since and is considered to have played a significant role in advancing abstract sculpture.
In the future, Jeff says: 'I've always wanted to do opera sets. I'd like to work with Philip Glass. Einstein on the Beach was one of the best things I've ever seen. It's five hours long and I loved it so much, I went back to see it a second time the next day.'
See Jeff Lowe's work in Overlap, Linden Hall Studio Gallery, Deal, 7 May to 15 June
Text: Posy Gentles. Photographs: William Ford