Faversham Life meets Kimmy McHarrie and discusses her love of mosaics and all things marine
Words Amicia de Moubray Photographs Phil Harris and John Gallen
Stepping into mosaicist Kimmy McHarrie's house is somewhat bewildering as every wall and surface is bedecked with a rich medley of found objects such as shells and stones along with oodles of other artefacts and textiles. It takes a minute or two to focus on the many examples of her own mosaic work.
'Mosaics aren't respected in Britain,' says Kimmy. This is perhaps not that surprising as they tend to be clumsily made with standard manufactured tiles. Kimmy creates the real thing using vividly-hued glass smalti from Orsoni Venezia 1888 in Venice. Orsoni smalti are used in restoration projects all over the world and can even be seen adorning Gaudi's Sagrada Familia in Barcelona.
Kimmy conjures up her creations in a bright blue garden shed at a home just minutes from the sea in Whitstable. It is overflowing with bags of smalti and all the other accoutrements for making mosaics. She demonstrates to me how she breaks up the rock-hard smalti pieces with a fearsomely heavy hammer. 'I make random shapes and then decide where to position them. The balance to any mosaic is crucial – it is as much about the bits you leave – the interstice – as the pieces you put in.' She quotes the late Manx artist Norman Sayle who says: 'Happy accidents can occur with watercolour painting'. Kimmy says: 'I feel the same often happens in my mosaics because of the shape of a piece.' Her compositions can have literally thousands of pieces of smalti, sometimes combined with semi-precious stones, shells, gold leaf smalti and found objects. She underpaints each piece using a mixture of powdered pigment and water which imbues her work with a pleasing depth and character.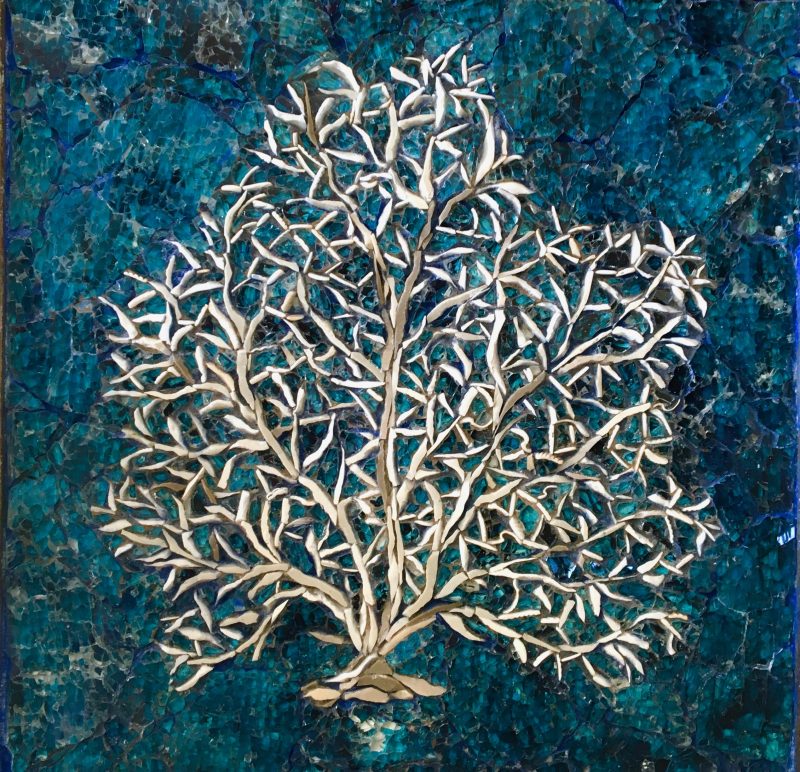 A hint of her future artistic trajectory can be dated back to her childhood. 'At school we were asked to make an image in a tin lid. Using seeds, I made a duck with splayed wings on the lid of a tin of Quality Street. The teacher accused my mother of helping me.'  This was not the case she says emphatically.
Originally from Castletown on the Isle of Man, Kimmy describes an idyllic childhood surrounded by nature. 'I was always rock pooling and collecting shells and pebbles, when I wasn't glueing, painting and sticking things together. Her seaside upbringing has had a lasting influence – 'We lived right on the seafront'. Much of her work has a marine theme, featuring for example, fish, sea anemones and plankton. 'I need to be near the sea with its big horizons,' she says. 'I wasn't on the "edge",' she says mournfully describing the period of her life when she lived in Oxfordshire.
Kimmy did a Foundation Course under Norman Sayle, at the University College Isle of Man before going onto Newcastle Art School to study illustration.
After a career doing illustrations for greetings cards, magazines and advertising agencies she started a business hand printing linens for lampshades selling them to Liberty's and the General Trading Company.
Her passion for mosaics took off when as a 40th birthday present, her husband John, gave her a course in the 'double reverse method' of mosaic making taught by by Luciana Nottorni at the Mosaic Art School in Ravenna. It is a painstaking method involving 10 different stages that was used by Romans and Byzantines.  Ravenna is the historic centre of Byzantine mosaics.
A magnificent recent commission was for a three-metre-long mosaic of a basking shark surrounded by plankton in six panels for the Ronaldsway Airport on the Isle of Man. Unveiled earlier in August this year, the project was organised by Culture Vannin, the Manx Heritage Foundation, to mark its 40th anniversary. Why a basking shark? Kimmy says: 'I wanted to celebrate the marine life of the island and I remember seeing a basking shark in my grandfather's boat in Castletown harbour. Basking sharks are dependent on plankton to survive, but we are all reliant on plankton to survive because they're the bottom of the food chain.'
Kimmy was thrilled to be able to 'give something to the Isle of Man'. The impressive work features local stone, from Pooil Vaaish, shells from both Castletown and Fenella beaches as well as recycled glass. It took six months to make.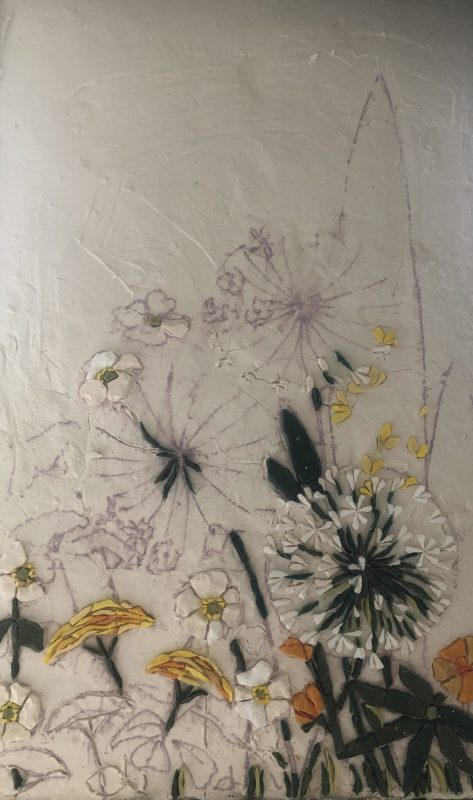 Kimmy has a show of her work at the Sportsman in Seasalter every two years and a few of her mosaics hang in the log cabins behind the pub that are available for rent. Faversham Life readers are in luck as the next one is from 13 May – 28 July 2024.