Faversham Life discovers rare and delightful Christmas presents selling in Whitstable this Sunday.
Follow the Christmassy aroma of stollen and mulled wine to 19 Joy Lane, Whitstable, this Sunday, 4 December. Francine Raymond is opening the doors of her much-photographed and incredibly stylish house from 10-5 o'clock to welcome those lucky enough to hear about her fifth Christmas Shopping event.
Francine promises 'an eclectic mix of passionate people selling tasty treats, stocking fillers, decorations and special presents to suit every pocket.'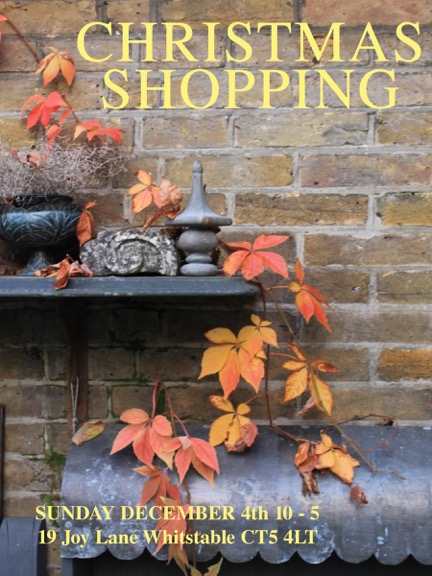 Rune Wold, Faversham's own dear Norse Baker, will be selling his unique French vintage finds and delectable home-baked Scandinavian biscuits and cakes. (Read more about The Norse Baker in Faversham Life). You will also find the most exquisite almondy, fruity stollen, made by Whitstable baker, Toby Schwenn.
There will be a wonderful range of liqueurs, syrups and sauces, apparently exotic, yet all local, from Katy Cox at Mighty Fine Things. Using Kentish fruit and honey, they have created delicious and enticing treats such as Lavender Gin, Faversham Cherries in Brandy and Faversham Damson Vinegar.
Hiroko Aono-Bilson is a textile artist from Norwich who uses antique fabrics to make kimonos and scarves as well as an enchanting range of soft toys.
Look out for an original range of aprons, bunting and advent calendars, created by Nicola Smith, from her collection of embroidered vintage French textiles.
Cranbrook Iron will be displaying a range of Christmas gifts in Francine's elegant garden. Cranbrook Iron creates all manner of bespoke ironwork from elegant fruit cages to the charming boxing hares pictured here.
Kim Barnicott, a floral artist, takes an original and exciting approach to Christmas decorations, using unexpected elements such as succulents. Also for the garden, there will be pots from the Danish potter, Hanne Westergaard.
Find Jan Plaice for snowflake Christmas decorations, delicately painted on little slices of wood, and exquisitely-painted pebbles in vivid colours and patterns.
Francine Raymond, garden writer, poultry expert and erstwhile Suffolk shopkeeper, will be selling 'the usual eclectic mix – vintage, garden and kitchen stuff'. There is a charity element to the event. The proceeds from the sales of refreshments, glasses of mulled wine and fragrant spiced biscuits, will support the Whitstable Calais Solidarity Group, as will the proceeds from Francine's sales of review copies of almost-new gardening books.
And if you're not exhausted, trot down to Pascale at 48 Joy Lane who is also opening her house for Christmas shopping.
Text: Posy. Photographs: several