Faversham Life visits a shop in a fine medieval building, a hub and a haven for knitting and crochet enthusiasts.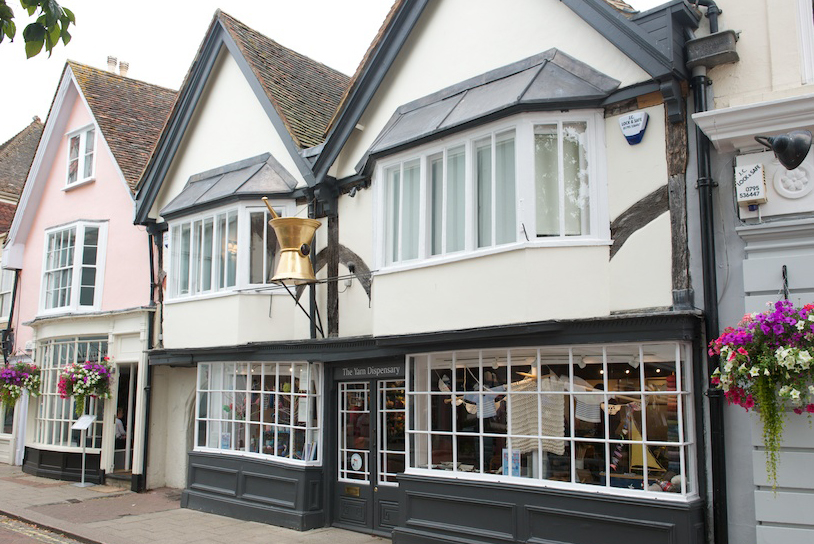 Framed by Georgian sash windows set in shallow bays, a washing line of jumpers for infant seafarers is strung between twiggy trees, their branches wrapped in sea-blue knitting yarns and festooned with loopy balls of wool. In a second display, a square of plain knitting on outsize needles hangs above a 'beach' of tiny antique buttons interspersed with ceramic shellfish. In both windows, display stands in the form of upturned knitting needles are stacked with yarns in glowing colours.
These are the shop windows of Faversham's most beautiful shop, The Yarn Dispensary, and the display, now superseded by an autumn theme, was inspired by the Nautical Festival. This glorious emporium opened a year ago and became an immediate favourite with local knitters and crocheters and a draw to visitors from all over Kent and far beyond. Described by Pevsner as 'the most ambitious medieval house in the town', 6 Market Place bears the date 1240. The gilded pestle and mortar, restored and rehung above the entrance, and original shop fittings, are a reminder of its previous role as a pharmacy.
Gillian Matthews is the presiding genius of this treasure trove of a shop. She is Scottish, from a hands-on family in North Ayrshire. She learnt to knit at the age of five, and also to sew and garden – 'that's just what you did'.  Complementary expertise is supplied by her fiancé Sam Ely, who is a graphic designer with a BA Hons in Fine Art from Chelsea College of Art. Sam's grandfather was Gordon Ely, Mayor of Faversham and head brewer at Shepherd Neame. The family continue to have a close involvement in the life of the town.
Around two years ago, 6 Market Place became available and Sam's aunt and uncle, Vanessa and John Cackett, took it on. Renovation took over a year. The ground floor was to be a shop, perhaps a gentleman's outfitters. 'It needed to be beautiful', Vanessa told me, 'and something that works better in real life than online'. A yarn shop proved to be the answer, and Gillian the ideal person to establish and run it. From early experience as a teenager working in her local wool shop, she has built up an impressive body of skills and experience – as a designer maker of knitwear with a studio at Creek Creative, as a teacher of textiles and knitting at Lorenden School, as a design consultant for an international yarn company and a haberdashery consultant to John Lewis.
Promotion for the opening of The Yarn Dispensary began in March 2015 in advance of the September opening. Sam designed the website and Gillian wrote the copy. Building work dragged on and they had six days to get the shop ready, rather than the two weeks that had been planned. Eighteen-hour working days were the norm. When the doors opened on 1 September, the stunning shop was revealed, with sample garments and glorious yarns, in vibrant jewel colours, the duskiest pastels, the mauves and blues of heath and moorland and the infinitely subtle browns and greys of our native rare breed sheep.
The shop stocks yarns from Debbie Bliss, Rowan, Sublime, Sylvan Tiger and others. Natural fibres are preferred as the shop is a brand partner for the Campaign for Wool. There are knitting and crochet patterns from independent designers for everything from stripey socks to heirloom shawls, with choice at every level of experience, including projects for the novice or retired knitter inspired to resume a rusty skill. There are covetable accessories too. What make the shop exceptional are its classes and special events, and Gillian's belief in the significance of  'slow textiles', with people gathering to knit together, finding rhythm and community in every stitch. The first Thursday 'Knit Night' following the shop's opening drew 32 people. 'It was overwhelming', says Gillian, 'a room full of vibrancy and colour'.
For its first birthday month this September, The Yarn Dispensary has a limited edition of yarns in an exclusive colour range, with designs to accompany them, from Sweet Georgia Yarns in Vancouver. Debbie Bliss launches her new autumn/winter collection at the end of the month and there will be a new workshop programme. The Yarn Dispensary has stitched itself firmly into the fabric of Faversham. It is also a valued national player in a small but outward-looking and expanding British industry and has been shortlisted for Best Independent Retailer in the British Knitting Awards (South East of England), the winner to be announced in early October. Reviewing the Dispensary's first year, Gillian says: 'It has exceeded expectation and has been the best kind of hard work'. Gillian and Sam are getting married in October. 'We'll be shut that day' says Gillian firmly, although a customer nervously enquired: 'You will be open in the morning?'
The Yarn Dispensary
6 Market Place
Faversham
ME13 7AG
http://www.theyarndispensary.co.uk
Text: Sarah. Photography: Lisa