12 bottles of Bollinger a night! An Oldsmobile Super Rocket 88 sells for £93,000! Jimmy Page in dungarees! Faversham Life is reeling
Hatters Hall in Preston St is crammed with records ('vinyls' to the millenials), cds, dvds, musical instruments, paintings by Ron Chadwick and Drew P and more. I suspect that the entire history of the past 70 years of music is represented in there somewhere. The man behind it is Les Best, a man who has led an extraordinary life.
Les and I meet for coffee at The Moonlight Café and I ask him how Hatters Hall evolved. We can see it through the café window: the mannequin in the first floor window, the posters and the sleeping cat. He says he had always fancied himself running an emporium: 'I liked the idea of plinths with whacky stuff on top of them, sofas carved out of tree trunks, lights made out of euphoniums – the sort of stuff millionaires would buy.'
What happened was this. About 12 years ago, Les had just bought a guitar for his little son Kai, when he bumped into an old friend who asked him if he wanted a shop in 'a nice quirky Tudor building' in Faversham. No, he said, he didn't. He was dealing in thousands of records a week wholesale and doing nicely. She persisted. Why didn't he just take the keys and keep it for three months. Then she scooted back to the Isle of Man and Les fell in love with the shop. Hatters Hall started to take hold and take shape, not along the grandiose lines Les had first envisaged, but as a music emporium.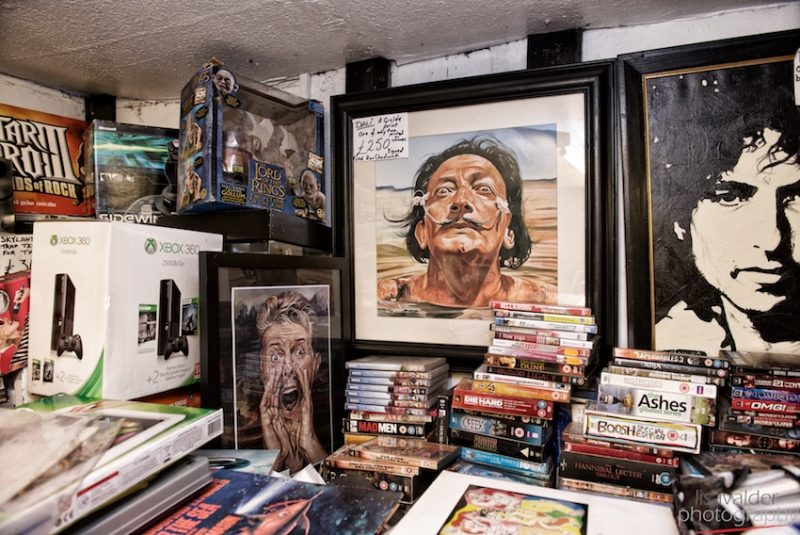 Les says: 'The big plus of the shop is the people who come in. They come from all over the place.' Jimmy Page came in a couple of years ago and Les didn't recognise the man with 'crinkly grey hair, in dungarees with a shoulder bag' as the legendary guitarist of Led Zeppelin. He says: 'We chatted about the Bath Festival of Blues and Progressive Music which happened in June 1970. It turned out we were both there. I said about Jefferson Airplane being rained off, then the rain stopping for Led Zeppelin. He nodded. I didn't realise who he was until a friend came in who'd seen him leave and told me! Even then I didn't believe it until I went home and googled him.'
Hatters Hall is a place to hang out and chat as well as buy music. Les says: 'Bob Geldof likes it because it reminds him of being a kid in Dun Laoghaire.' Les and the atmosphere of the shop have nurtured many young musicians in the town and, he says: 'A lot of people come to hear my stories.'
Les hasn't always been involved in selling records, but he's always been into music. This is a sample of his stories. He tells me, in the Seventies he promoted the likes of The Clash, Blondie, David Bowie, Siouxsie and the Banshees, and Hawkwind. One night, he sang with The New York Dolls at a gig on the roof garden of Biba in Kensington High St. He swigged Bollinger night after night at Stringfellows in the 1980s (when it was still a successful nightclub) after he introduced his hairdresser flatmate Frizzby Fox to Peter Stringfellow, and they became an item. He has caroused with diverse celebrity figures, from Les Dawson to Charles Althorp (Princess Diana's brother), to Screaming Lord Sutch to Ronnie Wood, and had a birthday party thrown for him at The Hippodrome.
In the 1970s, Les shared a flat in Maida Vale with Lemmy at the time he was thrown out of Hawkwind and started Motorhead. 'He died owing me 5p,' says Les. You must ask him the story. It involves Lemmy appearing through a window in the middle of the night – a startling thought.
Les's stories are labyrinthine, each tale starts another and often they loop back again.
There is the story of the 1972 MC5 gig Les put on at the Odeon in Canterbury: 'Because of a power cut, the gig didn't even start until 11.30 and it ended at 5.15 in the morning. We laid on buses to take everyone home. The whole place shook. The police were banging on the doors and I promised them just one more band and we'd stop – and that was MC5, the wildest, loudest band in the world.'
As Les came out into that early March morning, his ears still ringing, he climbed into his friend's 1961 Chevrolet and a new love was born. 'He wanted to sell it so I bought it off him for £150. I couldn't even drive. I passed my test – by pure luck – later that year, and immediately reversed it out of my grandparents' drive in Whitstable into a telegraph pole!' Les has owned 26 American cars in his life, all dating from the late 1950s and early 1960s. Les heard that the very same Oldsmobile Super Rocket 88 he sold in 1979 for £2,000 to start his record dealing business, sold recently for £93,000.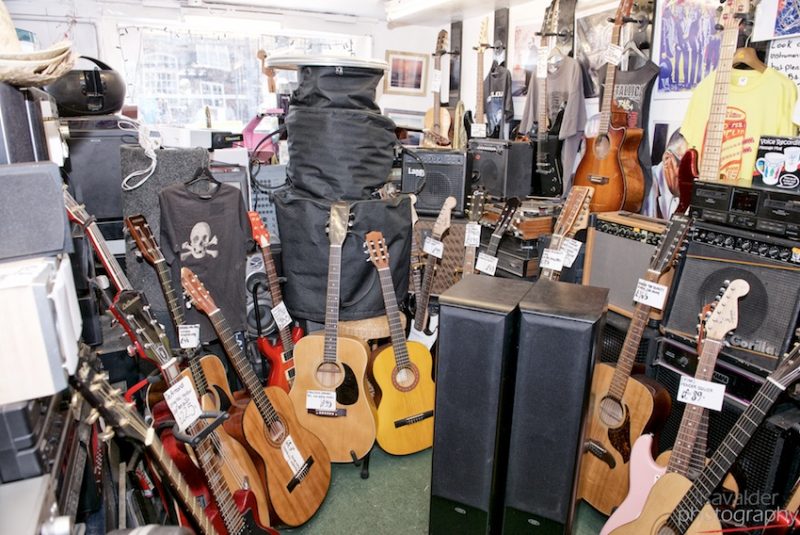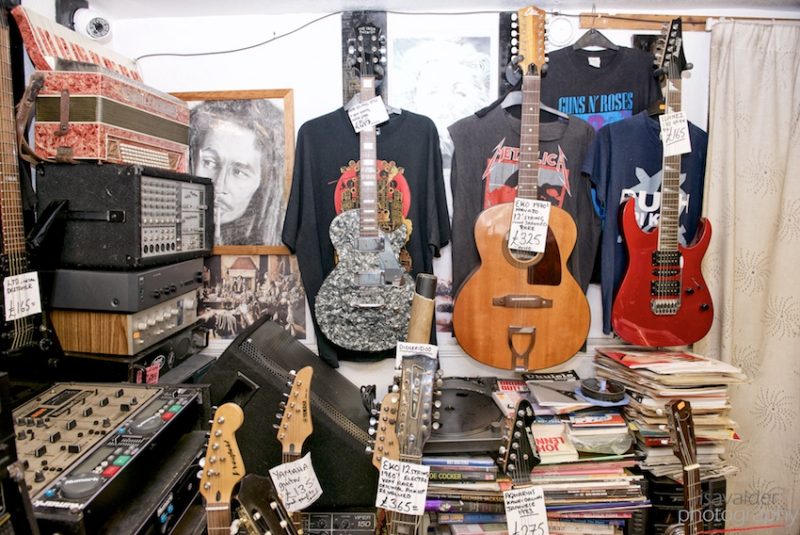 Les was based in London until the turn of the century, but his grandparents had moved to Whitstable when he was a child, and later his mother followed, so Les has a strong connection with East Kent. He was the man who promoted many of the groups playing in Canterbury during the 1970s – at the Odeon (despite testing the patience of the Diocese with his MC5 concert), a vast 1930s cinema which stood on the site of the present Marlowe, and at St Thomas Hall above the Catholic church in the Burgate. Here, he says, more than 1000 people crammed in for a Hawkwind concert, double its capacity.
Les offers Faversham Life a bit of a scoop when he tells us that Hatters Hall is sponsoring a new radio station called Evocative Radio which will operate from the upstairs room of the shop, and has gained the exclusive rights to livestream interviews with the bands playing at A New Day Festival at Mount Ephraim on 3-5 August. His son, Kai, will film the interviews for the website.
Les plans to take to the stage himself at next year's Blues on the Farm Festival in Bekesbourne. His music will be 'Mississippi blues heavily influenced by Son House, with Captain Beefheart-style vocals'. As we sit sipping coffee in The Moonlight Café, Les suddenly starts singing to me in that growly, yowly Beefheart-style. This isn't his first band. 'I had a band in the Seventies called the Diamond Studded Babes. We were a bit like The New York Dolls. My girlfriend of the time, who I met through Lemmy, had gone out with Johnny Thunders before. That's how I ended up singing with them on the roof garden at Biba.'
All the chairs are upside-down on the tables at The Moonlight Café, the floor has been mopped and the waiter's outside, smoking a cigarette. We hadn't noticed it closing, so intent were we chatting, and Les has just told me how he conquered his difficulties with arithmetic as a child by working out the odds in horse racing, a lifelong passion, and that he has a share in a racehorse, Bangkok Pete, who won at Ascot two years ago. But The Moonlight must lock its doors and this story must wait for another day.
Text: Posy. Photographs: Lisa
SaveSave
SaveSave
SaveSave
SaveSave
SaveSave
SaveSave
SaveSave
SaveSave