Faversham Life discovers the history of 365 Faversham
Words Amicia de Moubray Photographs various, as credited
The concept of 365 – A Year in the Life of Faversham – is brilliant. It is a photographic record of the town recorded day by day for a year by its residents. The pictures are on show at 12 Market Place between 1-9 September.
The brainchild of Faversham mover and shaker, Nathalie Banaigs, Director of Kent Creative, it is the third such exhibition. The first was held in 2008 in what was then known as the Drill Hall, in Preston Street (now the Assembly Rooms). 'I had to negotiate with the army, no-one knew of its existence in those days,' says Nathalie. 'I hung the photographs on metal grill Heras fencing, more traditionally used on building sites.' She enlisted the help of Faversham Camera Club who doubled their membership as a direct result.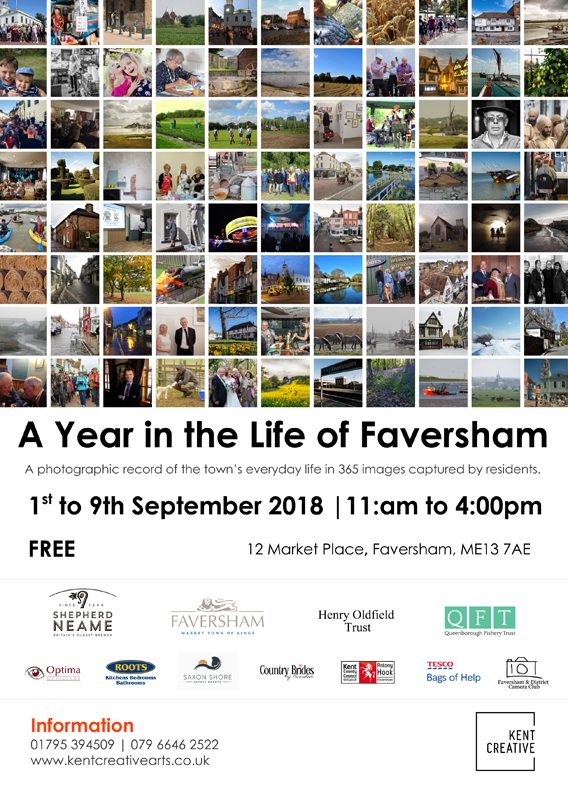 Nathalie was inspired by a project in her native France: 50 photographers took pictures of their local community over a period of three days.
In 2012 she organised a second 365 in Faversham as well as in Canterbury and the Isle of Sheppey. Canterbury City Council then approached her to do a further one in Whitstable in 2012.
Ten years on from the first 365 I ask Nathalie how Faversham has changed. 'Lots of shops have changed, either closing or opening, there are some new houses and babies have turned into 10 year olds. But intrinsically the character of the town remains unchanged.' In years to come 365 will prove to be an invaluable record of what it was to like to live in Faversham in 2018.
128 photographers registered to take part and between them took 2,059 pictures between 1 July 2017 and 30 June 2018. 'I can't imagine how hard it must have been for the judges to choose just one photograph for each day,' says one participant, Mary Ransom, who was born in Faversham.
An interesting angle of 365 is that the four major sponsors of the exhibition are 'all local family businesses with a strong connection with the community and interest in the history of the town: Shepherd Neame, Roots Kitchens, Bedrooms, Bathrooms, Saxon Shore and Optima.' Roots didn't even have to be asked – they approached Nathalie.
If you love Faversham do go and see the exhibition. You won't be disappointed. As Jonathan Neame, Chief Executive of Shepherd Neame, writes in the foreword to the booklet of the exhibition which is available to purchase, 'it is a project that allows us all to re-engage with our town, to see it afresh through new eyes. The relentless pace of modern life is such that it is sometimes difficult to appreciate our surroundings and all too easy to take them for granted.'
Another participant, Anne Golesworthy, opines: 'this is what Faversham does best – getting together to create something special. It reinforces my belief that the people of Faversham love where they live and the people around them.'
The show will be open each day 11-4.
12 Market Place, Faversham ME13 7AE.
Published 24.8.2018
'