Faversham Life discovers the bold and brilliant in Liz Bradley's vivid watercolours
Words Posy Gentles Photographs Jo Court, Alexandra Campbell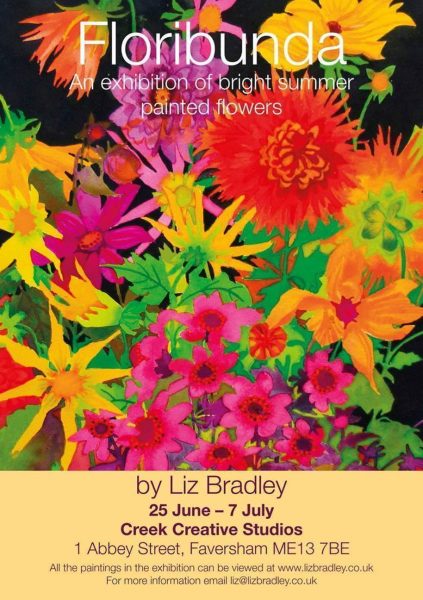 Liz Bradley is showing her paintings at Faversham's Creek Creative Studios in an exhibition called Floribunda from 25 June to 7 July. She paints ruby and garnet shades of dahlia, neon gladioli, pink nerines – and while you're still reeling from the gorgeous intensity of the colours, you notice that you can identify every flower, that they are horticulturally correct, that the hosta leaf is browning at the edges, and that there are insects creeping and hovering amongst the flowers.
'Colour is a strong thing with me, and this particular period of painting is quite bright,' says Liz. 'I start painting a Cedric Morris pale iris and it ends up bright.' She has taken courses at The Slade 'and all over the place', and was encouraged to develop her painting by learning to draw (and develop the right side of her brain) by the painter Ed Povey, whom she met when living in Wales but she considers herself largely self-taught. 'Art colleges teach innovation and relevance. My flowers aren't really very cutting edge. I paint what interests me and moves me.' Liz paints from life – flowers, the landscape (particularly in winter, she's not mad on green), hens and sheep. 'I don't paint my deepest emotions – I probably don't have any!' Liz guffaws.
Liz has been painting seriously for 18 years and before that she spent 15 years designing needlework patterns for her company Elizabeth Bradley Designs, and before that had been an antique dealer with a particular passion for Victorian samplers. She did a degree in marine zoology which accounts for the attention to botanical and entomological accuracy.
She paints in watercolour on thick creamy paper. She says: 'The process is slow as they are built up from layers of carefully considered colour, each having to dry before the next is applied.' These paintings are far from the soft, indistinct washes we might expect from watercolours.
She doesn't plan her paintings as such but builds them up, working outwards. Liz says: 'The images are relatively simple and flat but using the colour and shape of the various components of the composition I try to create luminosity, space and depth within them.' The vivid layers of watercolour give the paintings this luminosity. The flowers seem to float in the picture – their forms defined by their colour, not their outline. These are no traditional Keble Martin illustrations, yet their horticultural accuracy shows that the artist is also a talented gardener. We talk in Liz's garden, on a warm evening before all the rain happened, with a glowing golden honeysuckle dripping down the hen coop, roses tumbling in the borders among the pointillist pink fluffy heads of Persicaria bistorta. Liz was a volunteer gardener for several years at Great Dixter – here she found the stunning giant buttercups, three times the size of meadow buttercups, which fringe the hedge.
Liz paints every day from six o'clock in the morning. 'It's a very obsessive occupation. I get twitchy if I don't paint every day. When I'm on holiday I draw. One in 10 of my paintings goes easily and the others are a struggle. I reject quite a lot – my whole studio is littered with rejected irises at the moment. But the paintings develop their own life. I try to go back to them, to make them work.'
See more of Liz Bradley's paintings on her website, www.lizbradley.co.uk
Exhibition at Creek Creative 25 June to 7 July
Text: Posy Gentles. Photos: Alexandra Campbell and Jo Court