Asparagus season is here. Sally Smallwood explains how to locally source and enjoy these delicious, nutritious spears
Words Sally Smallwood Photographs Sally Smallwood
Like the bluebells, asparagus is late this year. The cold days and even colder nights meant a slow start, but now it's here let's go for it – because if you want to eat local the season is short (around eight weeks).
This nutritionally-packed super food supplies us with a wide range of vitamins and minerals. Green or white, feast on it without guilt. Your pee might smell a bit, but your body will thank you.
It's easy to cook and a good companion to many flavours and dressings. It pairs particularly well with dairy (think aioli, hollandaise, parmesan, feta) but also works well with salty Asian notes. David Simmons' vegetable stall in the market on Tuesdays, Fridays and Saturdays has plenty of  local asparagus from Thanet, as does Macknade and the Goods Shed in Canterbury.
Lower Laysden Farm, near Goudhurst, offers pick your own at £7.50 a kilo. And if you're planning a trip to the coast, why not call by Sevenscore Farm near Ramsgate. They pick and sell from their farm shop seven days a week.
The spears do grow wild locally, but can be hard to spot. I've had success finding it in apple orchards around Newnham, Doddington and Hernhill, but please keep to the footpaths around the periphery of orchards and pick in moderation. The spears can vary enormously in size but, on the whole, they're much slimmer than those commercially grown, which is why wild is so delicious raw I think.
When buying local, look for spears that are erect and tightly closed as opposed to open or floppy. Thick or thin, it really is your preference; be mindful though that freshness determines the flavour to a large extent.
A note on white asparagus: it is grown from the same seed as green but is covered in soil to inhibit the production of chlorophyll. It's very popular in Europe and supposedly sweeter. I think I've always been unlucky with the spears I've eaten and rather go with Niki Segnit's view in her wonderful book, The Flavour Thesaurus: 'The Spanish, who have so much to recommend them gastronomically, put it in salads, where it lies hidden among the leaves like a chef's long-forgotten finger.'
Preparing asparagus is simple: just run your thumb and index finger along the spear from base to tip, bending gently as you go. You'll find a point when the stalk snaps easily. This point naturally separates the tender from the tough. Collect up all the tough end pieces and cook up for a soup, add to an existing stockpot or to your pan of Jersey royals.
Steam, roast, fry or grill the tender tips for 1-4 minutes depending on thickness, and pair with your chosen sauce or dip.
Truly fresh asparagus really doesn't need a lot of dressing up, but here are a few simple serving suggestions.
Asparagus soldiers
Simple so often is best and this is just perfect (pictured below). Barely cook the asparagus – it needs to be fit for purpose, dipping and double dipping. Aside from pairing with a good hollandaise, this really is my favourite way to eat it.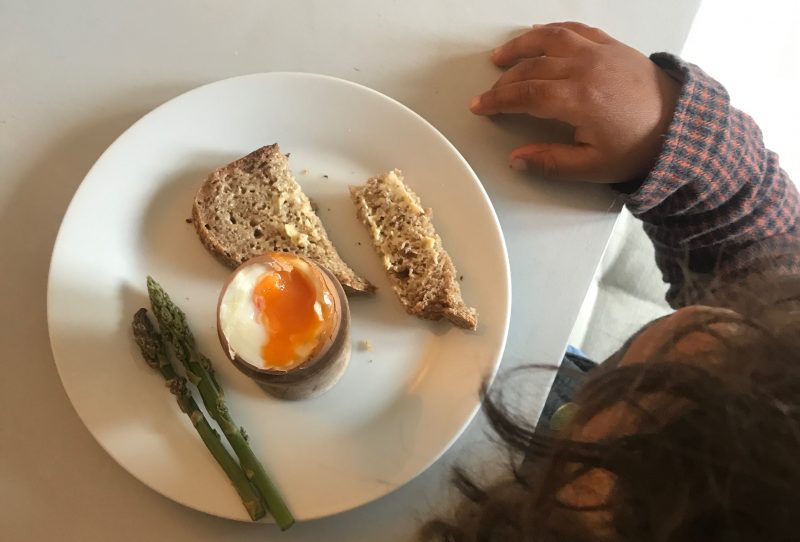 Olive oil, grated parmesan
Lay your asparagus on a baking tray in one layer and drizzle over a little oil. Finely grate parmesan over the tips and put under a hot grill for 2-3 minutes until the cheese is coloured and a little crispy and the asparagus browning. Serve as a starter or side.

An Asian-style dip
Place around 80g of chopped, salted peanuts in one bowl, and make a dip of 2 tbsp sesame oil, 1 tbsp light soy sauce, 2 tbsp lemon juice, in another. Steam or grill a heap of asparagus, pour over the dressing and the chopped nuts and serve as a starter (pictured above).
An Indian-inspired side
For this you'll need a fistful of asparagus, 30g butter, 1 tsp crushed cumin seeds, 2 tsp crushed coriander seeds, 1/2 tsp turmeric, salt, and mango powder (also known as amchur) to taste. Melt the butter in a large frying pan – it needs to be big enough to hold all your asparagus in a single layer. Fry the cumin and coriander seeds and add the turmeric. Arrange the asparagus in the pan in a single layer and add 2 tbsp water. Simmer for two minutes until tender but firm. Sprinkle over some amchur/mango powder to taste.
Text and photographs: Sally Smallwood