Faversham Life goes to Bennett Opie Limited's immaculate factory in Sittingbourne to find out more about this curious-looking but delicious pickle.
Words Sarah Langton-Lockton Photographs Lisa Valder and Bennett Opie Limited
The perfect accompaniment to cold turkey or ham, or a fine blue cheese such as Colston Bassett Stilton, pickled walnuts are a longstanding staple of British traditional fare. There's a reference to 'a mutton chop and a pickled walnut' in The Pickwick Papers by Charles Dickens and a passing mention in Evelyn Waugh's Brideshead Revisited. Dorothy Hartley, in Food in England, her entertaining and authoritative compendium of culinary and social research, gives an 18thcentury recipe for gathering and pickling walnuts.
Opies is one of the oldest family-owned food companies in the UK. It was founded in 1880 by Bennett Opie, a Cornish tin miner, one of 10 brothers in a family based in Redruth. The wives of tin miners at the time kept chickens and Bennett had the clever idea of selling their fresh Cornish eggs in London. The expansion of the railway network made this viable. Bennett moved to London, borrowed £5 and started selling eggs. The business took off and customers included Fortnum & Mason and Harrods. Soon, he was also selling bacon, and then dried egg to the bakery trade.
Nearly 140 years later, the family is still very much involved. The current Chairman of the company is William, great grandson of Bennett. William's son Anthony is a management trainee and his nephew Christopher is Managing Director. William explains how Bennett Opie's son (another William), while considering new ventures for the company, enquired: 'Why don't we make glacé cherries instead of importing them?' Following experimentation at home, and acquisition of part of the current site in Sittingbourne, Opies started making Britain's first non-imported glacé cherries in 1920.
Kent was the place to be – 'the home of cherries', says William. In the 1950s, the dawn of the Babycham era, they started producing cocktail cherries, using as much local fruit as possible and some imported from other parts of the world, including Italy. Opies was then asked to do cocktail pickles – little onions, olives and gherkins. 'That was how we got into pickles,' explains William. Pickled walnuts followed in the 1970s when a local producer went out of business and Opies spotted a new business opportunity.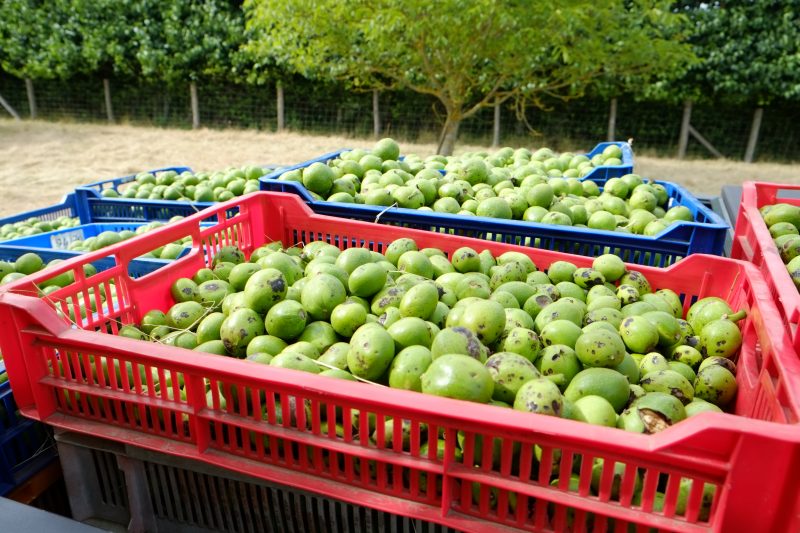 William and his brother Philip, who was Technical Director, researched old recipes. 'We found some really nice old English recipes, but the question was: where do you get the walnuts?' The answer was Campagna in southern Italy where Opies already bought cherries, and where many growers divided their orchards with walnut trees. A lot of the walnuts now come from France, from a family near Grenoble, and some from John Leigh Pemberton at Torry Hill. 'They have to be picked when green,' says William, 'from mid June to the end of July, before the shells starts to form'. Ripe walnuts, he explains, have a fully formed shell and are are shaken from the tree later in the year. For pickling, the green nuts must all be picked by hand.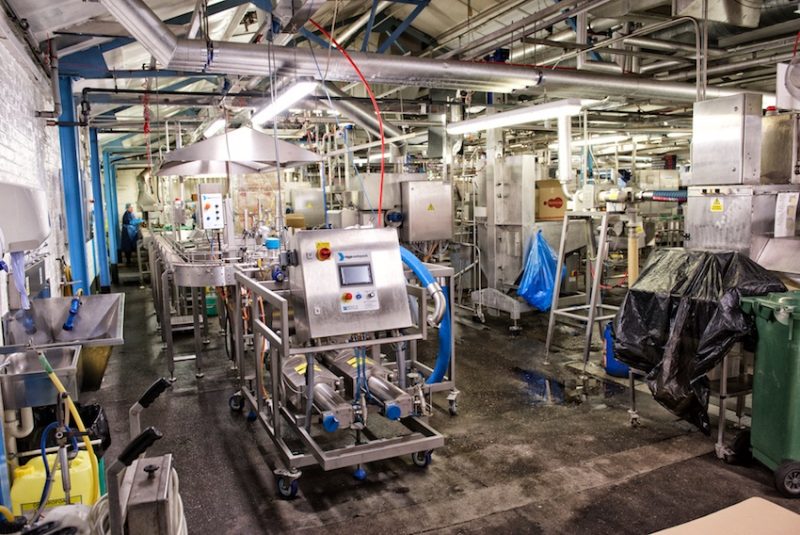 'It's a very unusual product to make,' says William. The 'very special' recipe goes back 100 years. The walnuts arrive at the factory in barrels. First, they are steamed in the walnut cooker, which is a big steel drum. The ends are then cut off by hand, and they go into vats where they soak in vinegar with sugar added to balance tannin levels. Their final destination is the packing hall where the walnuts are packed by hand into jars containing a secret-recipe bottling vinegar. This 'king of pickles', as William calls it, once a Christmas delicacy, is now available all year round in major supermarkets as well as specialist shops such as Macknade in Faversham and S W Doughty in Doddington. Opies is the UK's only large-scale producer.
For a tour of the factory Lisa and I donned hairnets, white coats and special shoes. There were no pickled walnuts in production that day, but there was much else to see. Machinery hummed and clattered, and conveyor belts coursed their way through the halls. From a tank (these are made locally to Opie's own design), in which cherries were being slowly cooked in sugar, rose a delicately perfumed steam. We passed peeled Lincolnshire onions on their way to the bottling hall. Elsewhere, lemons were being sliced by machine, checked and some pieces discarded by vigilant employees (substandard pieces are recycled as animal feed); the finished product is destined for busy pubs at Christmas. Opies Sliced Lemons save time and ensure there are no knives behind the bar.  'Manufacturing isn't easy,' said William. 'It's very labour intensive and equipment hungry.'
Our final destination, on an upper floor, was the laboratory of the Quality Assurance team, where a sample from every batch is tested. 'These days,' says William, 'ever since Horsegate (when horse meat was found in burgers), everyone wants provenance and traceability.' The rise in food intolerances and allergies adds to the need for comprehensive and accurate information about ingredients. 'We know, for example,' says William, 'where the walnuts came from, which jar they went into, and the date is on the lid in code form.'
Opies has a variety of products, ranging from organic capers through stem ginger in syrup to blackberries with gin. Many of their products, including lists of ingredients and nutritional information, are featured on their website www.opiesfoods.com. The company exports all over the world and imports too. A whole new market, prompting the need for offices in London, has been created by introducing MONIN syrups, made in France and widely used in cocktails and to flavour coffee and other hot drinks. The great thing about being a family-owned company, says William, is that you have the freedom to pursue new ideas.
A cruel dilemma faces the pickled walnut lover fishing for a final savoury fragment in a near-empty jar – what to do with the delicious vinegar that remains? Opies offers an excellent solution. This is their recipe for a Quick Pickled Walnut Vinaigrette Dressing.
Ingredients
100ml Opies Pickled Walnuts vinegar
200ml extra virgin olive oil
1tsp garlic in oil
2tsp Dijon mustard
1tsp tomato purée
salt and pepper
Method
Place all the ingredients in a clean, empty Opies Pickled Walnuts jar.
Screw on the lid and shake vigorously until an emulsion forms.
Store in the fridge for up to a week.