Faversham Life encounters the enduring style of a top fashion model in the sixth decade of her career.
Jan de Villeneuve started modelling in the Sixties. She was of that crew who, with their spidery lashes and short skirts, ousted the poised, hatted, impossibly narrow-waisted sophisticates who had dominated fashion until the girdles came off and fun took over.
Now about to turn 74, Jan is a woman of immense style, whether you catch her haring up Newton Road to the station in an ostrich feather coat, flying fair hair and Michael Caine glasses, or behind a trolley at Sainsbury's in fingerless gloves and a child's camouflage hoodie that she picked up at a sale in H&M. With a break to have children, and a year acting in Noel Coward's Design for Living with Rachel Weisz and Clive Owen ('One of the best experiences of my life!'), Jan has been a model for much of her life.
There has been a stellar resurgence in her career as the fashion industry looks for older models. In the past few years, she's been gleaming in the pages and on the covers of the glossies, and striding the catwalk. Her star appearance on the runway for Simone Rocha in London Fashion Week last year, caused a media frenzy. 'This is my customer,' said the designer. 'What I do is for all types of women and that's what I wanted to reflect in my casting.'
Jan says: 'Being an older woman is great right now. People are paying more attention to women as "older women" rather than pressuring them to botox.
'In the Sixties, I felt really old at 22. These days the agencies are full of girls in their 40s, 50s and 60s. I worked with a model for Harpers Bazaar last year who was 84 and had only started modelling at 82!'
Jan says that the American photographer Steven Meisel has been very influential in developing the appreciation of older models. In 2015, he photographed her for Italian Vogue and Jan is more and more in demand. 'There's a realisation that older women want nice clothes these days.' And they don't want to look staid and respectable. The women who were young in the Sixties were never going to settle, as they aged, for a weekly shampoo and set at the hairdressers (to achieve that unmoving hairstyle which looks like you're wearing your brain on the outside of your head), stretchy trousers and cardigans.
A scroll through Jan's Instagram shows her first modelling job in the UK in 1968, photographed by Norman Parkinson for Jaeger, wearing tailored jackets and skirt suits. A recent shoot for girls.girls.girls.magazine shows Jan in feathers and fur with cleavage and mouth a slash of red. Things have moved on.
Jan grew up in the United States, where she graduated in Architecture and Design at the University of Michigan in 1966. As she was living near Detroit and its car manufacturers, a friend suggested she make a bit of money modelling to advertise cars. Then a friend in New York, who thought she might be working as a teacher, put her in touch with Mademoiselle magazine who wanted to photograph real teachers. The English photographer, David McCabe, took the photograph and Mademoiselle sent Jan to the model agent, Eileen Ford. Putting on hold her plans to work in interior design, Jan threw herself into building her portfolio. She was photographed by William Klein for Glamour magazine. 'That was my first big thing,' says Jan. 'I was paid $40 an hour. You did your own hair and makeup and it was expected four pictures would be taken in the hour. You had to be very professional.'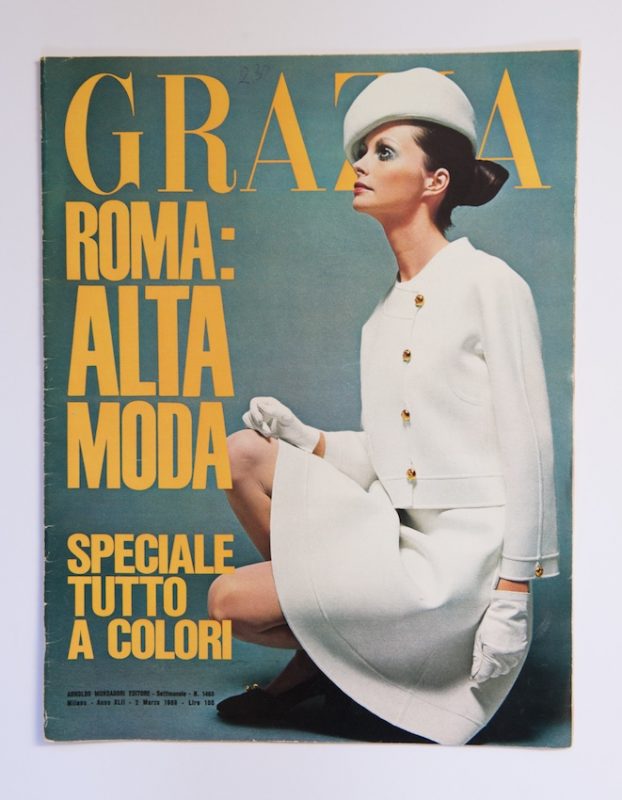 Her career took off and so did Jan. She worked around the world: Paris, Milan, Jamaica with British Vogue's Grace Codrington, and the UK before settling in the UK in 1970 and joining Models 1, still her agent. She has worked with most photographers you care to name: David Bailey, Norman Parkinson, Donovan, Duffy, Helmut Newton, Mario Testino, Patrick Demarchelier are some of them.  Jan says: 'There was little money, no drugs but great photographers! I used to be paid £20 a day to model for Vogue, and less if I was travelling. I often used to be paid in clothes.' Jan still has a stunning collection of clothes from such favourite designers as Thea Porter and Bill Gibb.
I ask Jan which designers she admires today. She says: 'Among others, Simone Rocha, Bella Freud, Comme des Garcons and Zac Posen. But style on a budget has always been my credo. I love collaborations between designers and high street shops – H&M and Kenzo, Liberty and Uniqlo – and picking things up in TK Maxx. I like the unique, not looking like everyone else, and have always loved charity shops and vintage. When I first met Jean Shrimpton working in Hawaii, she would wear some vintage thing she had got from Antiquarius in the Kings Road, and it became a favourite shop of mine.'
She rather modestly and interestingly attributes her modelling success to the fact that she is 'sample size'. 'When I started, the clothes only came in one size. I'm 5ft 9" and 112 pounds.They fitted me.'
Jan describes how modelling has changed. 'With the Mac set-up, photographers can look at the photographs straight away as they're working. It's disconcerting when the photographer is looking at the screen and not at you. There's less room for experimenting and for the model to work with the photographer.' Understandably then, despite the hi tech, there is a movement towards using film again in fashion photography.
Jan says: 'These days, I just do what I'm told. After the influence of makeup artist, Barbara Daly, in the Seventies, there is a hairstylist and makeup artist at every photographic sitting.'
Jan came to Faversham's environs in 1976 when she was married to the fashion photographer, Justin de Villeneuve, and when they split, moved with her two girls, Poppy and Daisy, to Sussex for 16 years. She returned in 2000 with her partner, drummer Andy Newmark. Jan says: 'I love Faversham. From my bedroom window I can see Perry Woods and the sea. I love Ann Squires' antiques and remember her first shop in West Street. Half my furniture came from her. There are great restaurants – Read's and The Sportsman, and I like buying fish from Bluey in Oare. I've really enjoyed the tearooms opening at the Sondes Arms.'
Looking back over her career, Jan says she feels easier now. 'When I was younger, I always felt conflicted because my work was all about how I looked. I had an uncle with polio who couldn't do anything for himself. Yet I was worrying whether to grow my fringe out because it made me look too much like Jean Shrimpton!
'I feel happy with myself now and not conflicted. Working at my age will help older women to feel they have value. Fashion is acknowledging women of different sizes, nationalities and ages.'
Text: Posy. Photographs: Lisa and others
SaveSave
SaveSave
SaveSave
SaveSave
SaveSave
SaveSave
SaveSave
SaveSave
SaveSave
SaveSave
SaveSave
SaveSave
SaveSave
SaveSave
SaveSave