Faversham Life delves into the culinary delights of Oystercatcher Foods
Words Amicia de Moubray Photographs Carole Killen
Aleppo pepper, peri peri sauce, truffle sauce and wild mushroom ketchup are just a few of the enticing culinary offerings available from Oystercatcher Foods, 120 West Street, Faversham.
Carole Killen and Noel Fitzjohn opened the shop just before the first lockdown in 2019.  Luckily they were able to remain open as they were deemed to be selling necessities such as salt.
The small shop is lined with shelves brimming with hundreds of different spices, dried herbs, sauces (many exclusive to Oystercatcher Foods and made by Noel), local Kentish honey, vinegars, stuffing mixes, several loose leaf teas, various lentils, spicy curry powders, at least 32 different kinds of mustards and a host of exotic ingredients such as dried black limes (perfect for curries) and lavender syrup.
I was very surprised to be told by Carole: 'We are always trying to think of new lines to keep expanding our range'.  It seems pretty extensive as it is.
Along with gardening, cooking turned out to be one of the nation's favourite past times during all the lockdowns.  Oystercatcher Foods couldn't have opened at a more auspicious time. 'As there wasn't much for people to do, they turned to cooking. We found ourselves being asked for the more unusual ingredients. Favershamites seem to like experimenting with Continental and Moroccan cuisines,' says Carole.  The fact that pomegranate molasses is one of the best sellers along with the caper and gherkin mustard says it all.
Noel goes to Borough Market in London on a regular basis, buying an imaginative selection of fresh vegetables and fruit which are on display outside the shop. Every day he makes a vegetable soup (£1.75) which is available in takeout containers. It has proved a hit with local workers.  Also popular at the moment is Noel's home-made wild garlic pesto and wild garlic vegan pesto.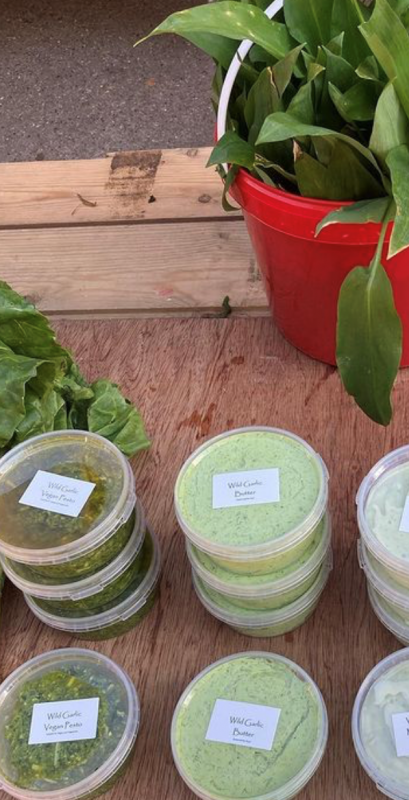 If you love cooking pop into Oystercatcher Foods – I am sure you won't leave empty-handed.  I certainly didn't!
Text: Amicia. Photographs: Carole Killen and Amicia