Hurrah for S W Doughty, the butchers in Doddington.
Winner of the Countryside Alliance British Champion Butcher of the Year award in 2010, Doughty's is run by the fourth generation of the Doughty family. 'Winning was amazing,' says Alison Church (nee Doughty). 'We were nominated by our customers. They were all very, very proud to see us on the posters alongside butchers from far flung parts of Britain.' The Countryside Alliance's citation said that 'traditional quality, friendly customer service, and huge skill and experience in butchery makes Doughty's a very special place.' This is only the latest in a long series of awards. In 2009 Doughty's won The Daily Telegraph's award for the Best Traditional Business.
The shop has an appealing old-fashioned atmosphere. There isn't a cling-filmed packet of meat to be seen. The wooden butcher's block is reassuringly traditional.
What sets Doughty's apart from other independent rural butchers is its very own slaughterhouse. Just how special this service is was clearly demonstrated during the 2001 foot and mouth crisis. Alison recalls: 'In the late '80s we were finding it increasingly hard to comply with the rules and regulations applicable for a tiny little abattoir like ours with a low throughput – one bullock and 20 sheep maximum per week. There was a trend towards bigger was better. But when foot and mouth hit, we were able to continue slaughtering throughout the crisis, as we transported animals such short distances – in one case literally from the top of the hill, just a few hundred yards from the shop. It made everybody realise how interlinked are all the different aspect of our rural community.'
Doughty's is loyal to its community. 'We try and support local farmers as much as possible, such as Kevin Payne of Doddington and the Bouchers, very successful farmers in Lewson Street, who let us sell their strawberries. We can guarantee the provenance of all our meat: 80-90% of the beef and lamb comes from within five miles, the pork comes from a little further afield. We have free-range chickens in Stalisfield, and buy our eggs from a Kent based wholesaler.'
Doughty's began to stock a wide range of cheese about 20 years ago as well as cream from Hinxden dairnear Benenden, one of the last remaining dairies in the county. 'We like to think that we can supply all the ingredients for a meal.' When the village shop closed in 2000 Doughty's expanded its range of groceries, more as a service to the community than to increase profits.
Doughty's occupies an attractive brick building that has hardly changed since it was built by Henry Norrington in 1789. Thomas Doughty, postmaster and butcher in neighbouring Eastling, bought the shop in 1919 for his sons, Stuart and Bill, on their return from the First World War.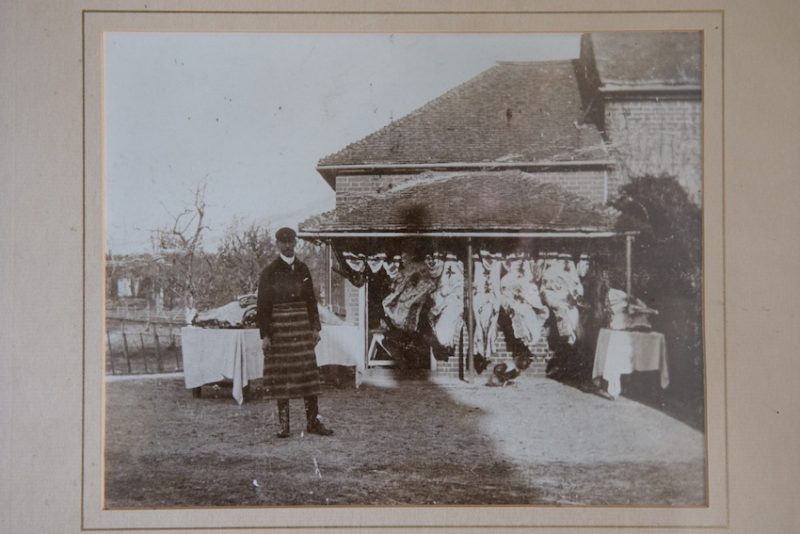 In those days cattle were bought at the local market in Faversham and walked back to Doddington. Deliveries from the shop were either by bike or horse and cart. Today, a white-coated 'butcher's boy' makes free deliveries in a van twice weekly in an area covering a radius of 15 or so miles. Other customers come from as far afield as Dover and Dartford.
Perhaps Doughty's most famous product are their legendary sausages. 'We have made them forever, selling more than 2,000 at Christmas, and more than 10,000 annually,' says Alison. Made to a secret recipe, the sausages have won numerous awards over the years. A recent popular innovation has been homemade pasties, winner of Produced in Kent Prepared Food award in 2014, 'We get lots of passing customers who want a quick snack.'
But it is not just meat that draws people to Doughty's. Each spring, bulb fanciers can be seen drooling over the little orchard next to the shop, which brims with a heavenly assortment of daffodils.
And in the weeks leading up to Christmas, a flock of 40 or so geese are to be seen patrolling the orchard before they grace a Christmas feast. 'It is an old tradition, my father and my grandfather kept geese.'
In an age when the big supermarkets are ever more powerful, independent food producers like Doughty's are to be celebrated.
Text: Amicia. Photography: Lisa