Faversham Life explores St Saviour's Tin Church on the Whitstable Road, Faversham.
'I fell in love with the church, the moment I saw it,' says Nick Kenny, who was responsible for converting it into a house, albeit a somewhat eccentric one. 'If the sun is shining in the morning I walk around smiling, thinking "this is just fantastic".'
He had been looking in Ramsgate, but his ex-brother-in-law urged him to look at the church. 'I went to Seasalter first. It was in the snow and all the clumps of marram grass looked like icebergs. I could hear curlews and oystercatchers and thought "this is amazing". I am Welsh and never dreamt that I would live in a marshy area, but I love Faversham, and there are so many things always happening.'
Nick bought the church from Robin Den of Premier Faversham Joinery, who had been using it as a joinery shop. De-consecrated in 1951, it was then used as a gymnasium for the nearby Church of England primary school. This usage no doubt accounts for the many different styles of glass in the windows – casualties of the children's frolics.
Built in 1886, the tin church was a branch of St Mary of Charity and is just one of many similar churches that were once widespread throughout the British Isles, far-flung parts of the British Empire and frontier towns populated by pioneer settlers in America.
The 19th century saw a rapid growth in urban population, resulting in a widespread call for new churches and chapels, often referred to as 'tin tabernacles'. They were designed and made in kit form, to be bought from illustrated catalogues which also advertised cottages, railway stations and houses. Timber framed and externally clad with galvanised corrugated iron, the 'flat pack' churches were easy to erect and transport, and were light, strong and relatively inexpensive compared to conventional building materials. The churches could be as large or as small as needed.
'Embellishments such as a rose window or a fancy porch were add-on extras,' says Nick. But they were not to everyone's taste '[Tin churches]….were spreading like a pestilence over the country,' wrote William Morris in 1890.
It is salutary to consider that corrugated iron was a revolutionary British invention, first used for roofing in London by Henry Robinson Palmer in 1829. As early as 1832 Richard Walker was advertising 'portable buildings for export'. By the 1840s, several manufacturers were producing corrugated iron using the system in practice to this day. Red-hot sheets of wrought iron are passed through a rolling mill, rather like a washing mangle with interlocking rollers. The distance between the two rollers can be adjusted to determine the thickness of the sheets.
A designer and maker of kitchens and bathrooms, Nick was living in France when he first saw the church. He quickly realised the potential of converting it into a home and his workshop. For the first 18 months he commuted between Paris and Faversham. 'It was very tough as there was no hot water – I had to boil a kettle to wash.'
He had to replace the rotten floor, and ingeniously created a master bedroom reached by climbing up a spiral staircase he found on eBay. 'It was easy to put the joists in.'
The delightfully idiosyncratic shower and kitchen are fine examples of his whimsical style. This was inspired by the Viennese designer, Friedensreich Hundertwasser (1928-2000), best known for the public toilets in Kawakawa, New Zealand. Into these Hundertwasser incorporated recycled materials, including glass bottles and bricks from a former Bank of New Zealand and other discarded objects from the local community, along with irregular ceramic tiles and small sculptures.
Look carefully, and dotted around are examples of Nick's kooky humour and taste, such as if you tap out the pattern on one of the kitchen cabinet doors it is the Morse code for 'kitchen pots'. He has skilfully maintained the essential character of the church, whilst making it a very appealing home with two bedrooms and a spacious dining/kitchen area as well as plenty of room for workshops and/or a gallery.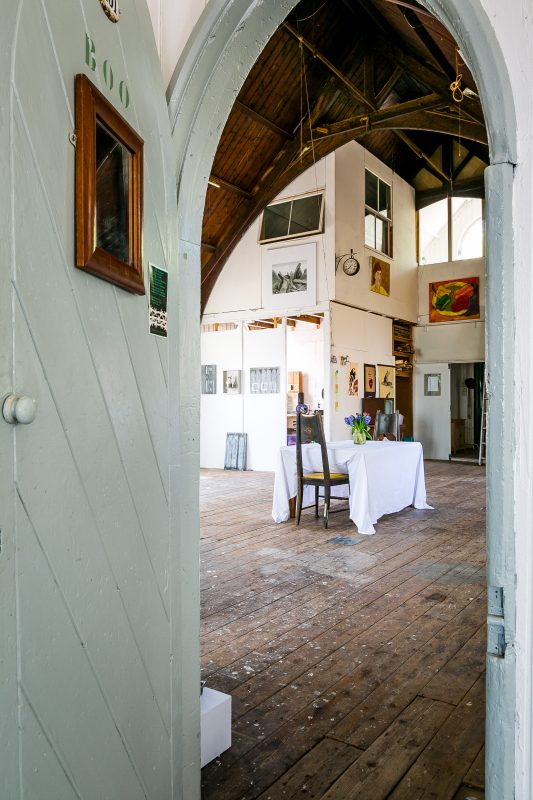 Nick very generously lent the tin church to Faversham Life for the launch party. As you can see from the photographs, it makes an extraordinarily good party venue.
Now aged 68 Nick has reluctantly put his beloved tin church up for sale on www.themodernhouse.com. 'I need to downsize'.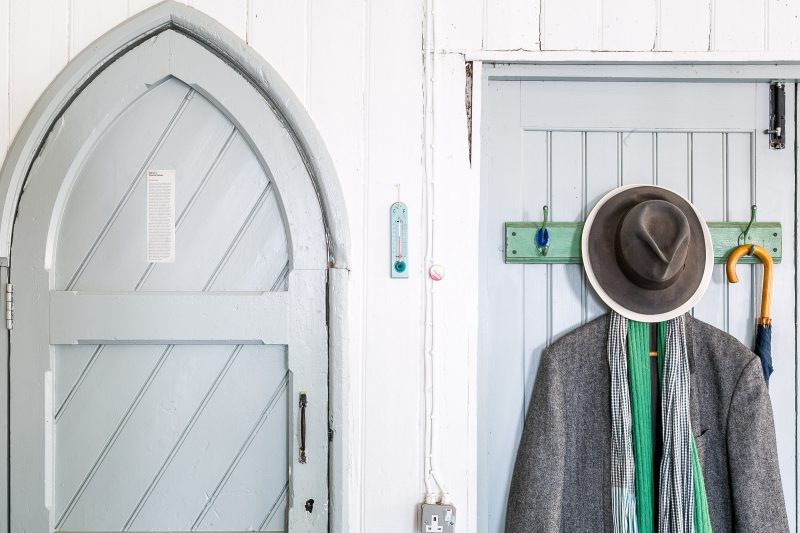 Sad for Nick, but a happy outcome for whoever is lucky enough to buy this utterly enchanting abode.
Text: Amicia. Photography: Lisa and The Modern House