Faversham Life goes walking and discovers an historic icehouse and a silversmith who kept his horse in his house on cold nights.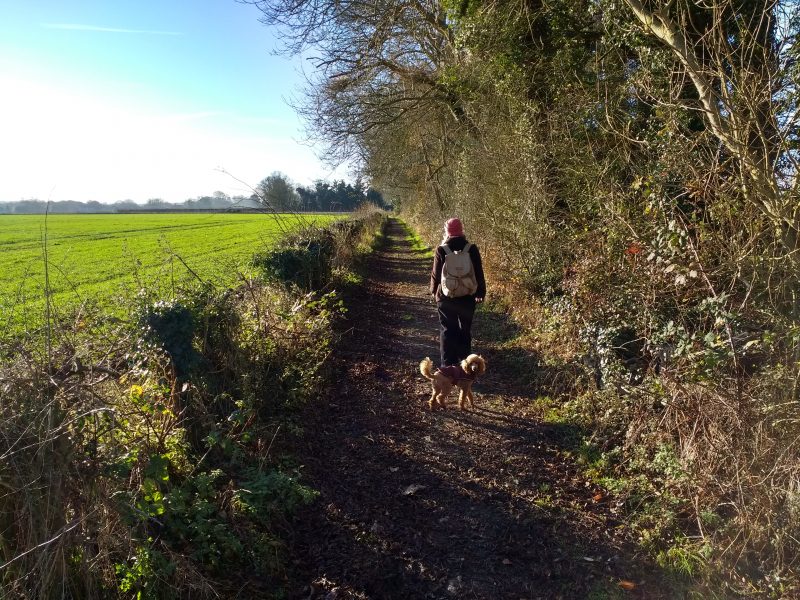 The temperature didn't rise above half a degree on the day that we set out with a walking map printed off the Faversham.org website. But the distant sun was belting out brilliance, if not warmth, and the muddy ruts and puddles of the bridleways had frozen hard. Slipping rather than squelching was going to be the hazard here
I set off with David, my old classmate from Queen Elizabeth's School in Faversham, who was visiting from Cambridge. He grew up on the edge of Perry Wood in Selling, son of the late Elizabeth Thomas, the talented gardener. My red poodle Maus, casually attired in a black velvet and diamante collar and sensible dog coat, danced delightedly at the proposed jaunt. The Faversham.org website has identified and detailed eight excellent walks around Faversham (see The Two Creeks Walk covered by Faversham Life in July 2017). This time, we chose the A Land for All Seasons walk which covers Selling, Sheldwich and Badlesmere, to revisit old haunts.
I must confess now that we did not traipse the full 11-mile walk. The map is imposed on to the Ordnance Survey Pathfinder map so that it is quite easy to tailor. We parked near St Leonard's Church some distance outside Badlesmere village. David remembered carol services in the church as a child. He was visibly disconcerted when we opened the door to the enchanting 18th century interior and remarked its fine box pews – John Betjeman raved about them. David, now standing some inches above six feet, had remembered the box pews as much higher. As a child, once enclosed in the pew, his view of the church had been limited to the roof, sadly before the impressive crown posts which had been hidden for 300 years, were uncovered in 2014. In the churchyard, we read the gravestones and found a tragic list of children from one family, eight in all. Four had died at only a few days old, and four in their early teens had died within weeks of each other in 1847.
We walked into Badlesmere down a bridle path and, admiring the houses and peering through garden gates rather than paying attention to our map, took a wrong turn at the green. It was a fortuitous mistake however, as it took us past the house of the artist, Kate Linforth, whose extraordinary beeswax sculptures we covered in Faversham Life last month. She was just emerging with two very excited dogs, Mole and Purdy, and joined us. We passed the green corrugated-iron village hall of Badlesmere, remembered by David as the scout hut of his youth and for its lavatory which he swears was no more than a box with a lid. Kate told us that the village hall hosts marvellous events including pet church services and mysterious sessions to find your spirit guide.
Kate set us back on track, taking us past the house where once lived a legendary silversmith. David's daughter now wears the crucifix set with rubies that David's father commissioned from him for his mother. And Kate remembered the silversmith in his latter years bringing his much-loved horse into his house when nights were cold.
We walked through the long swooping valley of the Lees Court Estate where white posts mark shooting positions and, mindful of the gamekeeper, put the dogs on their leads, to their chagrin. Then, rather than continue to Hogben's Hill and its charming collection of cottages, we scrambled up the side of the valley to the west to peer into the dark, cool depths of the recently excavated and restored Lees Court icehouse. It's true, we were off piste again, but this is the joy of this walk.
We made our way back to the car, kissed Kate goodbye who, with heroic maternal staunchness, was off to cheer her son who was playing in a rugby match, and drove to the second leg of our walk in Perry Wood. We parked at the Rose and Crown where we had lunch. Dogs and walkers were welcome and the food was hearty.
An hour later, fortified with steak and kidney pudding, David and I tramped up through the woods to the Pulpit. 500 metres above sea level, we could see Kings Wood draped across the horizon to the south, and looking back towards Faversham, the radar mast at Dunkirk and the Swale beyond.
Descending from this vantage point, we passed a vast, ancient beech tree whose sprawling, cradling limbs have enticed engravers past and present to scratch in the bark declarations of love or obscenity. Soon, we reached a thicket of young, straight birch trees, densely planted and gleaming in the darkening wood, and admired the banks of mosses and ferns. What gardener's art could match this perfection of winter planting?
We had certainly intended to do another leg of this walk – maybe visit Sheldwich Church to look at the Thomas Willement stained glass, or walk through Selling's apple orchards and reminisce about working as fruit pickers in the school holidays. As it was, it was too cold and dusky, so the rest of this walk you must discover for yourself at that moment after Christmas when you suddenly long for fresh air and exercise.
I have a supercilious friend from London who says the marvel of Kent is how easy it is to get to France. In a nicer way, I would say one of the marvels of Faversham is how easy it is to leave it – to find yourself on the Downs, the sea or the marshes.
Text: Posy. Photographs: David Thomas
SaveSave
SaveSave
SaveSave
SaveSave
SaveSave
SaveSave
SaveSave
SaveSave
SaveSave
SaveSave
SaveSave
SaveSave
SaveSave
SaveSave
SaveSave
SaveSave
SaveSave
SaveSave
SaveSave
SaveSave
SaveSave
SaveSave