Faversham Life learns how Kent cherries were saved
Words Posy Gentles Photographs Posy Gentles, Amicia de Moubray, Ruby Bishop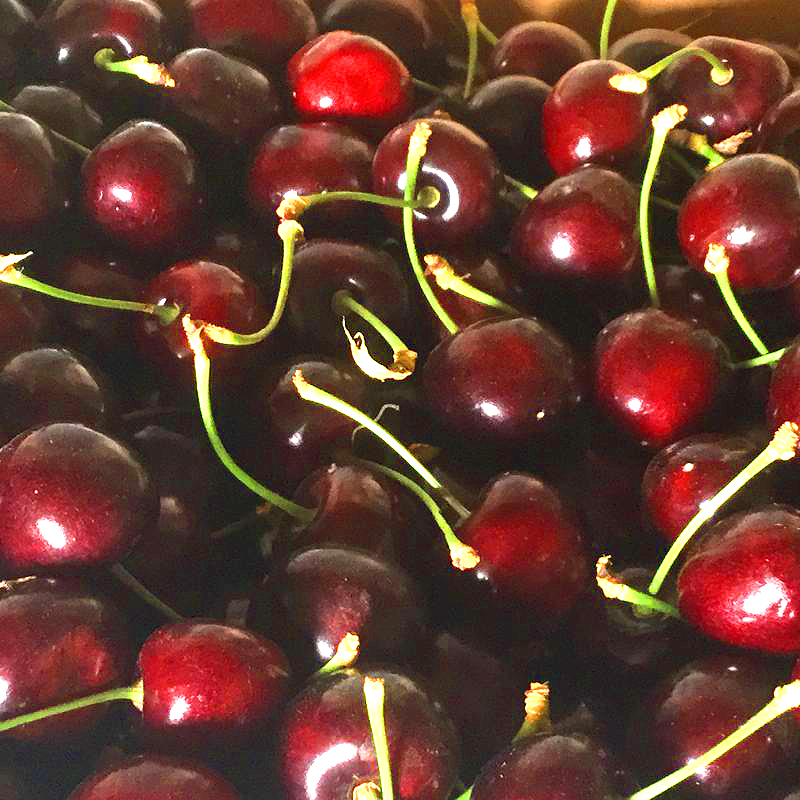 Kent is traditionally famed for cherries and hops. Both went into decline in the second half of the twentieth century, and both blessedly are on the rise again.
We still see the odd orchard of towering cherry trees, but the days are gone of fruit pickers clambering up those wide-based, 40-foot ladders to perilous heights, creating bangs to frighten voracious birds, and losing a whole crop after splitting in an unwelcome downpour. The juicy black fruit we favour now is grown on short trees in polytunnels.
Faversham Life visited fruit grower Sandys Dawes of Mount Ephraim in Hernhill, who was at the vanguard of the resurgence of Kent cherries. 'It was a total disaster to begin with,' he says frankly.
The Dawes family has lived at Mount Ephraim since the 1700s and made their pile through shipping, renting out their farmland. In the 1960s, Sandys' father, still running the family shipping interests, hired a farm manager and decided to farm the land himself. Sandys, not having followed his father into shipping, had become a schoolteacher of English and History. In 1977 he was teaching in Melbourne, where he met his wife Lesley, and started dreaming of home. He was 32 at this point, had never grown a thing, and decided to do a year at Hadlow College 'to learn the difference between an apple and a pear'.
Sandys says: 'When I was at Hadlow, I met a delightful guy who gave me two pieces of advice – plant Gala apples and grow vines.' The first piece of advice Sandys ignored to his cost; the second he took up to his cost. However, Sandys did his thesis on cherry growing and started planting cherries at the end of the 1970s. 'I knew there was no future in planting big trees. That's a long term investment and we needed quicker returns.' The old cherry orchards were being grubbed at this point; no-one had planted cherries in Kent for years.
Using a dwarfing Colt rootstock developed by the East Malling Horticultural Research station, Sandys planted trees – old varieties such as Merton Glory and Gauchers – which tended to grow too big and produce too little fruit. He struggled along until a trip with a small band of cherry growers and a fruit adviser from FAST (Fruit Advisory Services Team) to the West Coast of America in 1997 opened his eyes. He discovered the dwarfing rootstock Gisela and new heavy-cropping varieties. Then he found this is what they had been using in France, Belgium and Italy all along! 'And then,' says Sandys, 'we started to make some money. These are the trees we have now.' The Dawes farm was one of the first to experiment with growing cherries under cover.
The trees are planted in double rows from East to West to reduce the risk of rain coming under the covers. The trees need to be irrigated and nutrients are added to the flow of water – a process neatly called fertigation. Honey bees are reluctant to venture into the middle of the tunnels, so bumble bees are brought in to help.
Of the 50 acres of cherries grown at Mount Ephraim, only eight are under the traditional birdnetting; the rest are in polytunnels, although Sandys won't put them near Hernhill church for aesthetic reasons. The trees are planted close together and start cropping in year three. They are pruned, and branches encouraged to grow horizontally by tying down, to create a sort of tiered wedding cake shape to allow maximum sunlight.
Varieties are all large, juicy and black and chosen to elongate the six to eight week season. The early variety is Merchant, mid-season are Vanda and Kordia, and late, Sweetheart and Regina. Mount Ephraim's cherries are some of the earliest in the country. Sandys says: 'We look for flavour, size, yield and resistance to disease and splitting. Splitting is still a danger even in polytunnels if conditions are humid.' The traditional old white cherry is not grown ('It bruised too easily').
Sandys was one of the first to grow table-top strawberries but when his son, Will Dawes, joined the business, he felt they were spreading themselves too thin and advised specialising in cherries. They also grow apples, pears and plums, but increasingly cherries are the main crop. Sandys says: 'This year is the heaviest crop I've seen in my 40 years of growing cherries.'
At The Kent County Show this year, Mount Ephraim's cherries won first prize. Having tasted them, Faversham Life is hardly surprised.
Mount Ephraim is much more than a fruit farm. It has 10 acres of Edwardian gardens and holds events such as The New Day Festival, outdoor theatre performances and concerts.
There will be a Cherry Fair at Brogdale on 21 July.
Text: Posy Gentles. Photographs: Posy Gentles, Amicia de Moubray and Ruby Bishop