Faversham Life discovers the delights of Ukrainian food and #cookforukraine.
Words Amicia de Moubray Photographs Joe Woodhouse, Elena Heatherwick
#cookingforukraine is a very imaginative fund-raising initiative by the London-based chef, Olia Hercules, author of Summer Kitchens (published by Bloomsbury Publishing) and her close friend, the Russian chef Alissa Timoshkina, author of Salt and Time (published by Mitchell Beazley) also based in London. Within a couple of days of Russia invading Ukraine, Olia and Alissa had set up https://www.justgiving.com/fundraising/cookforukraine , organising events, supper clubs, cooking classes both in person and on line, talks at the British Library. They appeared on Woman's Hour, and post regular recipes on Instagram (@alissatimoshkina @oliahercules, @cookforukraine), encouraging restaurants to donate £1 on every bill. In the first week alone, £100,000 poured in from all over the world.  All proceeds go directly to UNICEF.  At the time of writing £443,793 has been raised.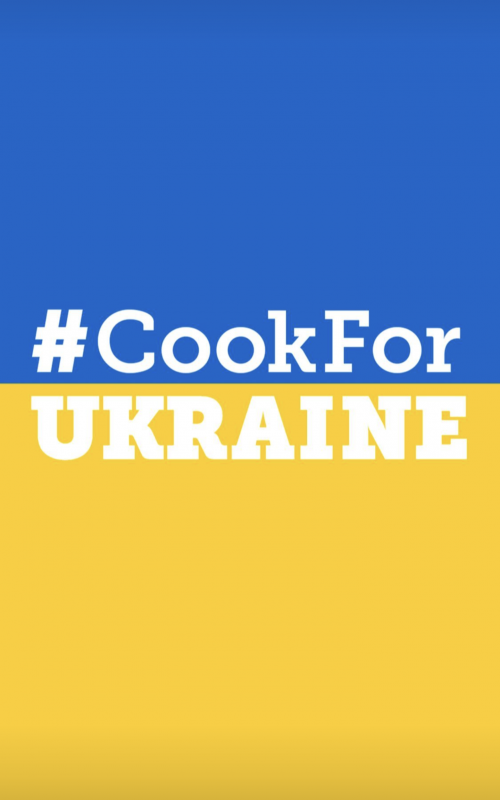 Olia's parents are in the South of Ukraine. Her brother, a civilian a few weeks ago, is now in the territorial army and her extended family and friends are scattered across the country.
Speaking on Woman's Hour last month, Alissa and Olia movingly shared their united outlook on the terrible situation.  Alissa recalls saying to Olia, 'I would love to help you fund raise but I feel really conflicted. Is it OK for a Russian to do this? Olia retorted 'Don't you ever let Putin make you ashamed of who you are, your identity and your culture.'
'Like millions of Russians, I too have Ukrainian roots and grew up on a beautiful diet of Ukrainian and Russian dishes.  These countries have shared a complex and rich history, the culinary language reflects this relationship in the most powerful and relatable way,' says Alissa.
'I feel with any war that's going on anywhere in the world, people can get fatigued quite quickly and disassociate themselves from it,' says Hercules.  'It's important to keep the human element of it. What is more human than sharing food together?'
Both Olia and Alissa have posted extensive lists on Instagram of what foodstuffs to buy for those taking in Ukrainian refugees. @oliahercules @alissatimoshkina.
Another Ukraine/Russia culinary connection is CCCP Restaurant, in Ramsgate.  It is the only Russian restaurant in Kent, and donates all its profits every Thursday to Ukraine.  'We used to live in Faversham,' says Rimantas Taracis, the proprietor, who comes  from Lithuania.  His wife is from Belarus. He proudly wears a T-shirt emblazoned 'I stand for Ukraine.'
Since the war broke out Ukrainian Iryna Mamrych, who lives in Faversham with her family, is frequently asked 'What do Ukrainians eat?' The answer is very healthy fare. For example: when watching TV, Ukrainians munch their way through sunflower (the national flower) seeds plucked straight from a flower head. 'It is messy,' acknowledges Iryna.
A nation's traditional recipes are highly potent cultural symbols for any refugee.   Suddenly finding oneself displaced in a foreign land, what could be more comforting than a dish evoking memories of home.
'In my childhood I never saw a ready meal,' says Iryna.  'Cooking is very much an integral part of family life with each region having slightly different variations of traditional dishes such as borscht.' She and her husband originally came to England for one year but have now been in Faversham for 13 years.
Iryna acknowledges that since she left Ukraine the time-honoured tradition of cooking as the sole preserve of women, with the recipes being handed down through the generations, has almost certainly changed.
Ukrainians cook with locally sourced seasonal ingredients such as cucumbers, tomatoes, potatoes, and sweet peppers. Beetroot is particularly popular.  'When I first came to England I found it hard to buy raw beetroot,' says Iryna. 'All I could find was already cooked and steeped in vinegar'.  Luckily that fine local food emporium Macknade's is an excellent source of raw beetroot. Other favourite ingredients are sour cream, poppy seeds, honey, dill, cabbage, apples and preserved vegetables – now of course so fashionable.
'We would eat a soup every day but unlike the pureed soups favoured in Britain, it would be a clear broth with vegetables. A lot of the recipes are very time consuming such as Paska, a bread traditionally served at Easter. Freighted with symbolism, we were taught to whisper wishes, think very positive thoughts and pray while we made it. It is strictly forbidden to scream or run away while it is being prepared'. Another laborious dish is Holubtsi, a dish made with rolled cabbage leaves stuffed with pre-cooked rice, grated carrot, chopped onions and minced pork. Another is Varenyky, the Ukrainian version of ravioli. Olivier, known to us as Russian salad, is served on every festive table.
A favourite memory from Iryna's childhood are prunes stuffed with sour cream and walnuts topped with grated chocolate.
Buckwheat is a particularly favourite of all Ukrainians.  'It has a nutty flavour and is very nutritious.  My son eats it boiled with milk for breakfast.
As for fish, 'Sea bass and salmon are far too expensive. I love carp,' she laughs, adding 'fried with flour and egg.'
Fortuitously, Bloomsbury Publishing are bringing out a new Olia Hercules book on 7th July 'Home Cooking' sure to be a runaway success.
Recipe for Ukrainian Curd Cake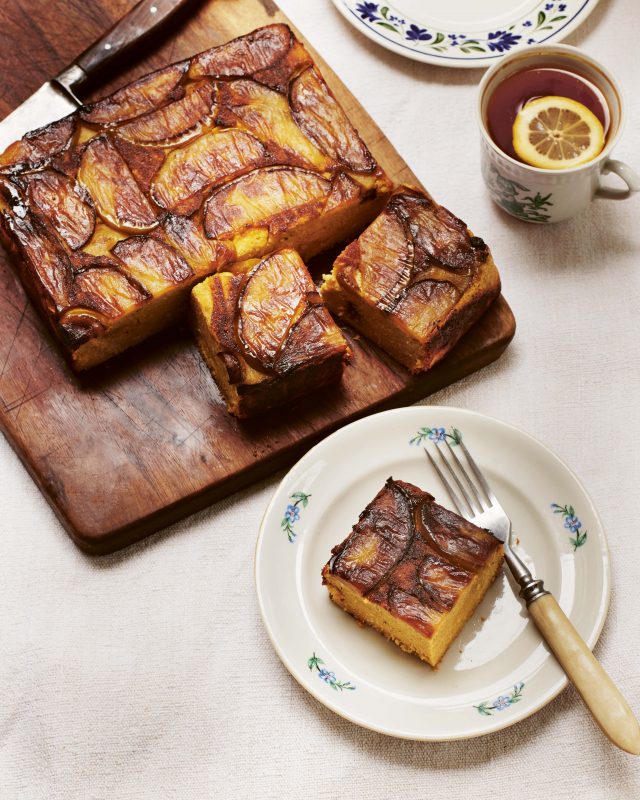 Serves 8-10
200 grams unsalted butter (softened)
200 grams apples (cored and sliced)
1 tablespoon brown sugar
200 grams golden caster sugar
3 eggs (separated)
1 teaspoon vanilla extract
500 grams ricotta cheese or good-quality cottage cheese
120g fine semolina or polenta
Pinch of salt
Method:
1. Melt 25g of the butter in a frying pan over a medium heat, add the apples and cook for two to three minutes on each side until they start to turn golden. Sprinkle in the brown sugar and cook the apples for another minute on each side, then transfer the caramelised apples to a bowl and let them cool slightly.
2. Preheat your oven to 200°C/Fan 180°C/Gas Mark 6 and grease a 20cm square or round cake tin with butter. Lay the apples in the base of the cake tin.
3. If, like me, you left your butter out in the kitchen overnight, but it was so blooming cold it didn't soften properly, cut the rest of it into small pieces. Whatever state the butter is in, put it into the bowl of an electric mixer fitted with the whisk attachment, along with 150g of the caster sugar, and whisk until it's looking fairly fluffy. Break the egg yolks with a fork and gradually add them, whisking well, then whisk in the vanilla extract and cheese. Transfer the mixture to another bowl, then fold in the semolina or polenta (the latter will result in a cake with more texture).
4. Wash and dry your mixer bowl and whisk attachment thoroughly, then put in the egg whites and whisk until they start frothing up. Add the remaining 50g of caster sugar and the salt and keep whisking until you have soft peaks. Now take a large spoonful of the egg white mixture and fold it quite vigorously into the butter and cheese mixture to loosen it up. Add the rest of the egg white mixture and fold in gently. Pour the mixture over the apples in the cake tin and bake for 30 minutes, or until it is a little wobbly, but not liquid. Remember it will set more firmly as it cools.
5. Leave the cake in its tin to rest and cool down, then slice and serve. Some unsweetened tea with lemon goes perfectly with this.