Faversham Life meets potter Lucy Rutter.
'I've set up a pottery business by accident,' says Lucy Rutter wryly. It was also by accident that my fellow Faversham Life author Posy and I recently discovered Lucy Rutter. We were wandering along St John's Street a few weeks ago when we spotted a window displaying a selection of interesting-looking pottery let into what looked like the exterior wall of a studio.
It is a classic example of what is so exciting about Faversham – there is so much going on in a quiet unobtrusive way.
Stepping into Lucy's studio from the street is a thrilling experience. The outside world is immediately left behind. Abutting her studio is a vast room which her husband Guy, a painter, uses as his studio. It is an astonishing building. Lucy says: 'When we bought it a couple of years ago, it was absolutely derelict, freezing cold, with unplastered walls and a concrete floor. At some point it was a haulage company.' The little room where Lucy keeps her ingredients for the glazes was the office with the window where her pots are on show.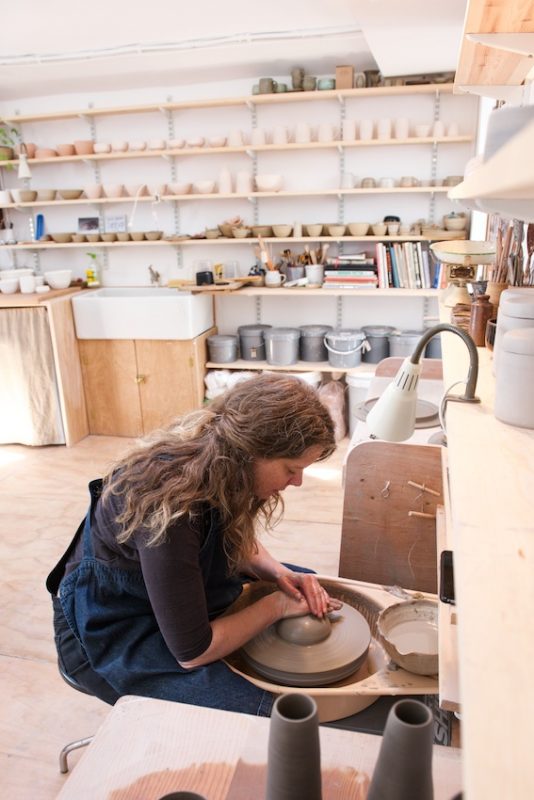 Lucy's meticulously ordered studio is reflected in her alluring pots. Pleasingly understated, they are decorated with subtly coloured glazes and are made with Cornish clay from St Agnes. It has a naturally occurring grog in it, 'the little bits that you can see sand in'. It creates a slightly abrasive texture. Lucy says: 'Not everyone likes it but I love the contrast of the rough exterior and the smooth finished glaze.' She says the clay suits delicate colours such as browns and greens.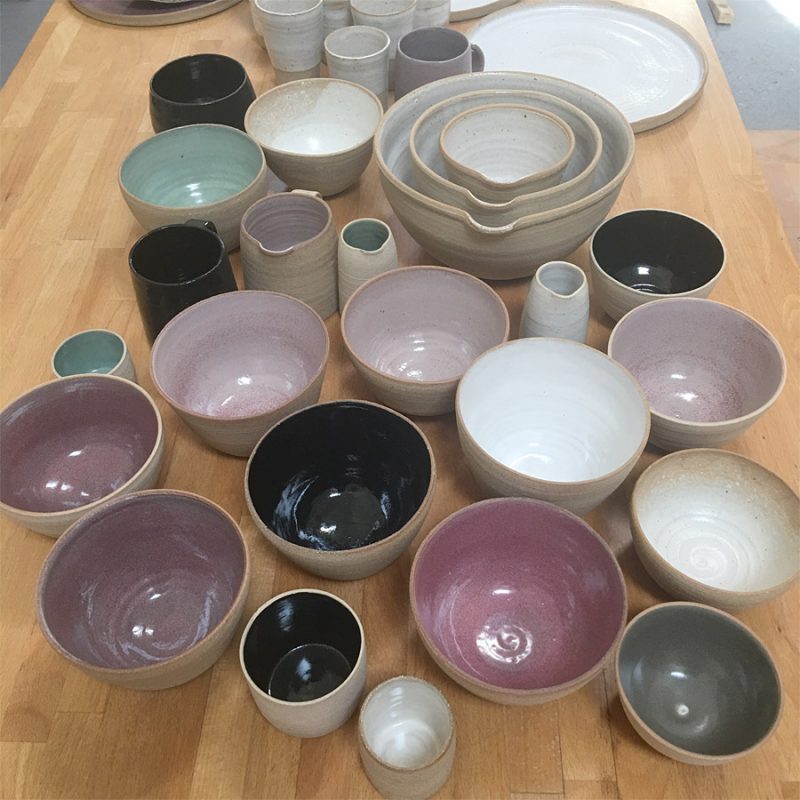 Lucy remarks that she could burnish her work to produce a smooth, level surface but that would detract from the handmade ethos of her wares. 'If you are buying a handmade object the charm is that each one is completely unique. When you use a mug or a jug, it is as if you are having a conversation with the maker by touching the handle that he or she made.' It is a delightful concept.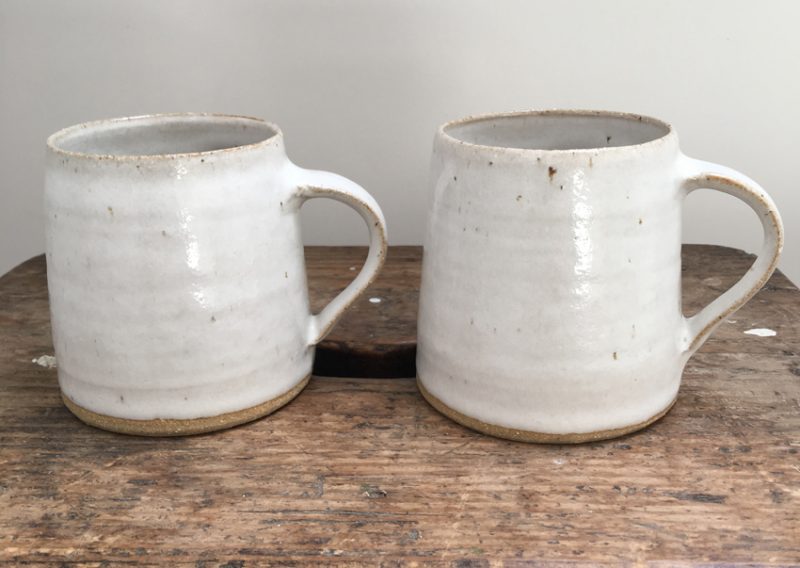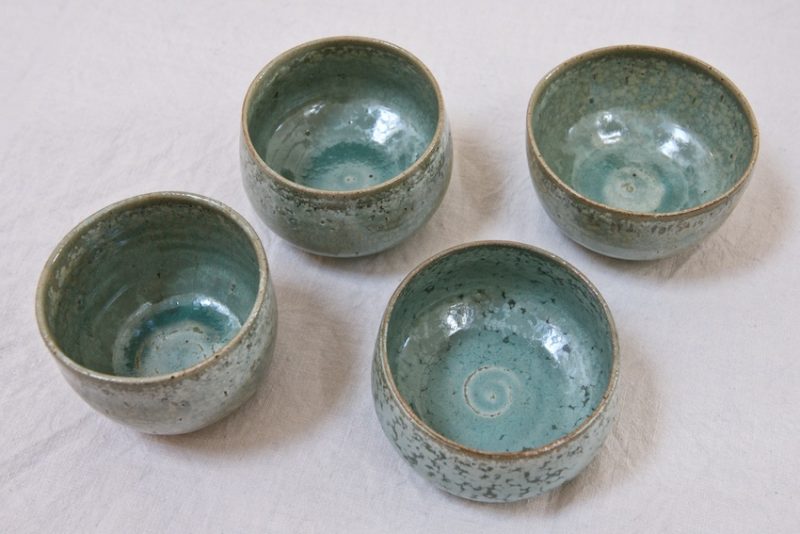 Originally a teacher by profession, Lucy grew up in the Midlands. She studied English at the University of Kent, going on to teach English and Creative Writing at her alma mater and at Canterbury College.
'I am largely a self-taught ceramicist but as a child would make things with my father from clay we dug up in our garden in Solihull. We built a kiln to fire them.' Ever since she has made pottery as a hobby, finding it a soothing antidote to teaching, which at times can be extremely stressful. 'I've always had a wheel and a kiln'.
A few years ago, Lucy, took an Adult Education Class in Maidstone taught by Faversham potter, Rose Dickinson, to while away the time whilst her daughter was studying for a photography A Level.
On sabbatical from teaching, Lucy enrolled on a week's course at the Bernard Leach pottery in Cornwall. 'Guy and I have long collected Leach pottery'. Lucy found her week very inspiring and hasn't looked back. This was followed by a glaze course at Morley College in London. 'We were taught by two young protégés of the renowned potter, Kate Malone "the master of glazes".'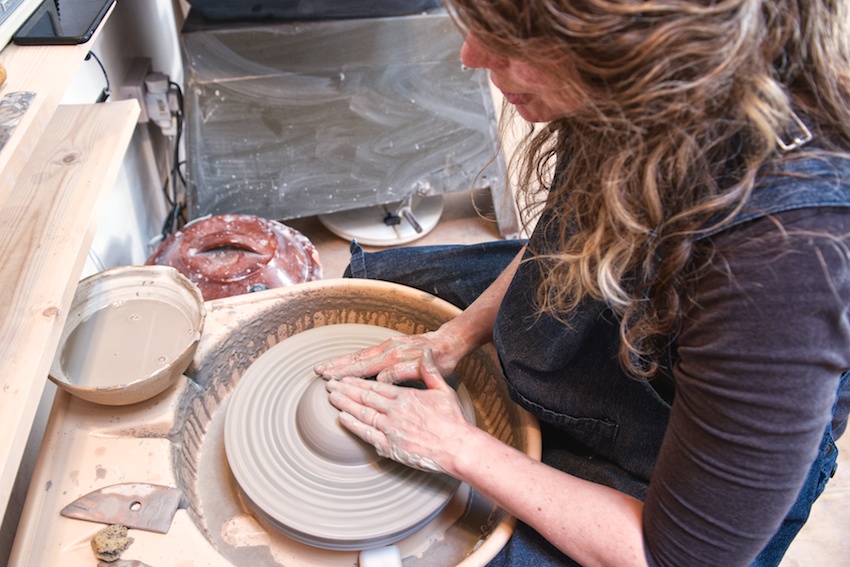 All Lucy's work is functional. 'I really want people to use my pots, which is why I keep the prices down.'
Participating in East Kent Artists Open Houses in 2016 led to Lucy being commissioned to make a range for the Turner Contemporary's shop which in turn led to a pub, The Crown near the Jerwood Gallery in Hastings, commissioning her to make extra-large platters.
Lucy had intended to write a novel, not become a potter, during her sabbatical. No doubt her book would have been entertaining but I have fallen in love with her pots.
Text: Amicia. Photography: Lisa and Lucy Rutter