Faversham Life discovers Mighty Fine Things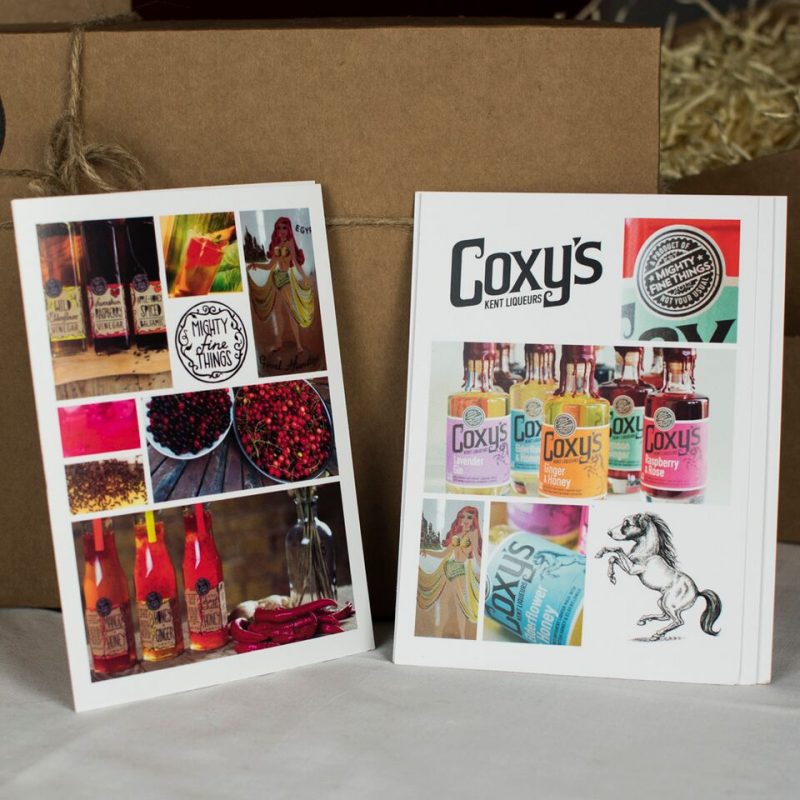 Although a finalist for a 2017 Produced in Kent award, Mighty Fine Things owes the inspiration for many of its delectable flavoured vinegars, sauces and alcohol to far-flung climes thousands of miles from Kent.  The range includes Damson Vinegar, Apple and Spiced Balsamic Vinegar, Blackcurrant and Liquorice Liqueur, and Lavender Gin.
The story behind the firm is surprising. Some years ago, Katy Cox, as she then was, had an opportunity to sail round the South Pacific.  'I sold my house and got a crew job. By coincidence, the boat originally came from Faversham Creek.'
Returning to England, she moved to Faversham, resuming her original career in marketing. 'Then I got tired of the commute to London.'  As a result Katy became more involved in the town. 'I began selling succulents planted in toy dinosaurs in the market.  Lots of people kept telling me that they also made things.'  In turn this led her, along with a few others, to set up Best of Faversham, a market held on the first and third Saturday of every month, selling a wide range of crafts and food – from Asian dishes to bread to greetings cards.
Gradually the dinosaurs evolved into liqueurs and vinegars. Endlessly enterprising and energetic, Katy found herself with a glut of honey and used it to make vinegars which she sold in the market in 2012. Her passion for beekeeping dates back to her travels when, staying on the remote island of Pitcairn, she encountered the island's leading beekeeper.
The recent history of Pitcairn's bees is worth telling. In the 1970s, the bee population of the island (which measures just two square miles) had been decimated due to nuclear fallout from the testing in the Pacific and the use of pesticides on the island.  Sad – as Pitcairn is so isolated that its bees should be disease-free and produce some of the purest honey in the world. In the late 1970s, the New Zealand Beekeepers' Association sent out two new colonies of bees by cargo ship from North Island, New Zealand. Today there are more than 200 hives on Pitcairn.
By another twist of fate, on Katy's way back to England she visited the Norwegian Lofoten Islands. 'I loved their spiced honey, flavoured with cardamom, cloves and cinnamon.' Hence the inspiration for Mighty Fine Things' Spiced Honey.  Utterly delicious, it is an exciting ingredient for any adventurous cook.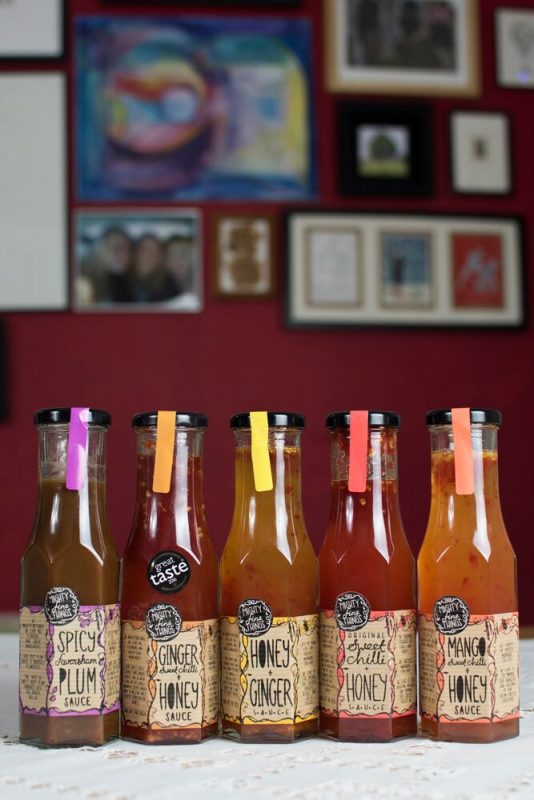 Right on trend, initially Katy went foraging for all her ingredients, even raiding a wild cherry tree in her garden. 'If you look around Faversham the hedgerows are bursting with cherries and damsons because most of the fields used to be orchards. We have even made Macknade's Cherry Brandy using cherries collected around their carpark.'
By the end of 2014 Katy and her husband, Rob Newton, decided that the business was a 'goer'.  Rob, originally from the North West of England, had worked in the South in the paper industry for 25 years.  In February 2015 he left his paper mill. The very next day the firm went bankrupt. He says: 'I started in Mighty Fine Things the same day.'
At first the Newtons made products in their kitchen with whatever fruit they could find but soon moved the centre of operations to the Alexander Centre's kitchen. But this proved difficult as it is used by so many different people. Fortuitously they discovered that the Abbey School had a vocational catering kitchen similar to a restaurant kitchen which was no longer in use because the government had axed catering training from the national curriculum.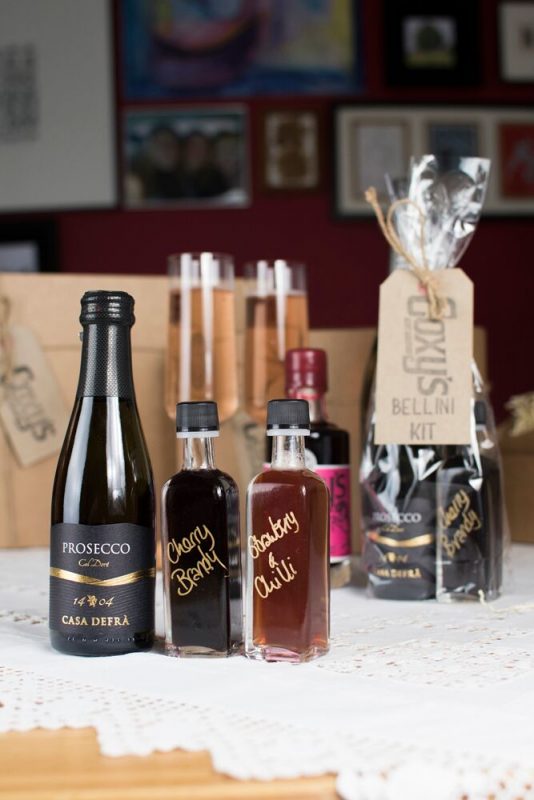 As the business grew they decided to specialise in flavours that are 'a bit different', apart from cherry brandy which is very much of this area. Katy says: 'We don't do chutneys and jams, they are too fussy. I am much more interested in traditional preserving, which is what vinegars, and fruit in alcohol are, rather than boiling up concoctions that have to come to temperature.' One of the most attractive aspects of Mighty Fine Things is that it ticks all the boxes for 'localism': local fruit, local kitchen, local people, even the labels are designed by Faversham-based Gemma Elliott.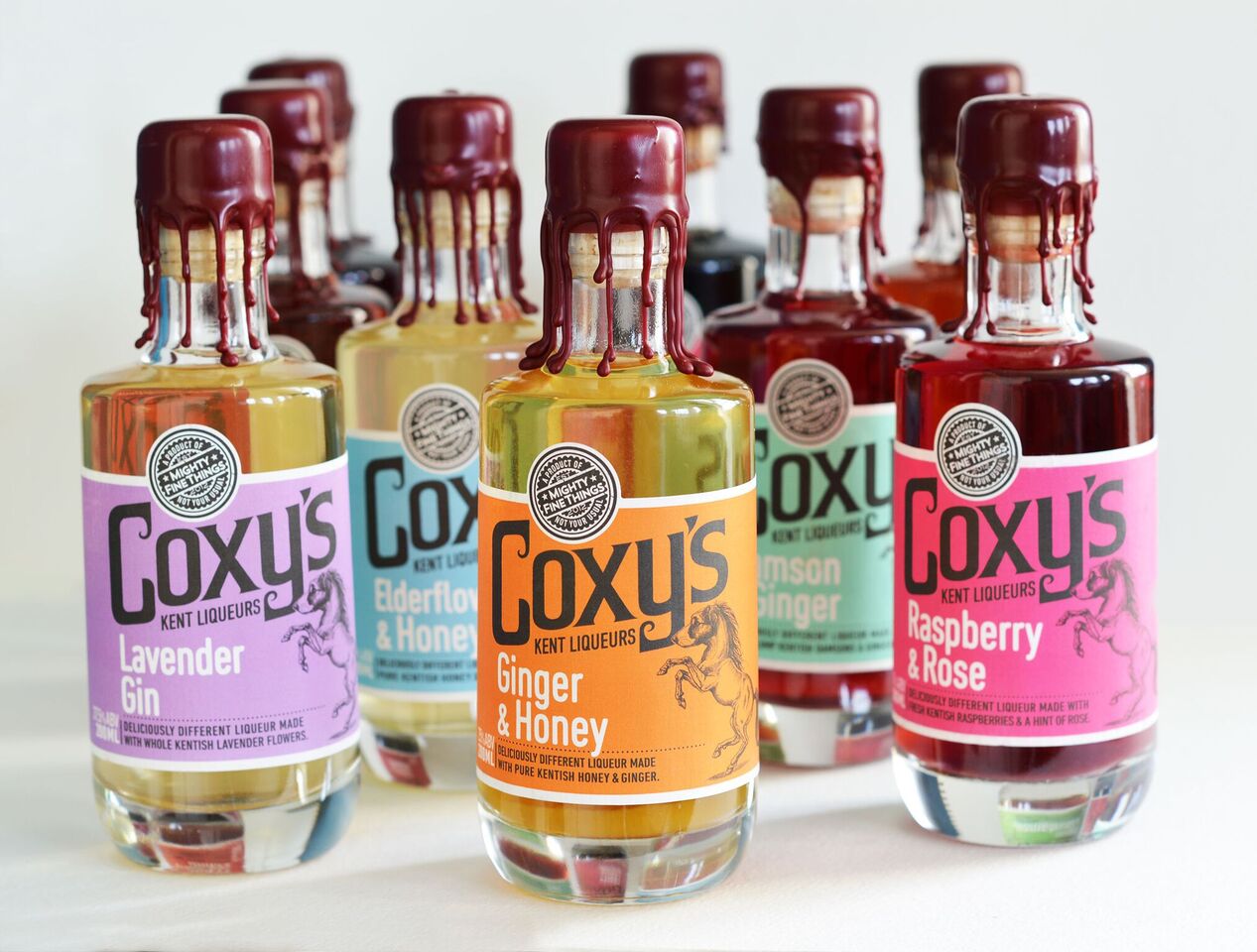 The wax seals on the bottles of alcohol add a charming individual touch. Katy says: 'Rob spent ages experimenting with saucepans of wax before I suggested he bought a double boiler from a beauty salon, originally used for waxing legs.
'Obviously he had never seen one before,' she chuckles.  The bottles are dipped by hand into the molten wax and quickly turned to create the wax dribbles.
'We are thrilled that the public have voted for us to be considered for a Produced in Kent award'.
Mighty Fine Things is well on its way to becoming a leading Kentish food brand that deserves to be known far and wide.
Text: Amicia.  Photographs: Mighty Fine Things
SaveSave