Life doesn't stand still in Faversham. As the town emerges from lockdown, Faversham Life salutes new ventures taken by some of the people we have profiled in the past
Words Amicia de Moubray and Posy Gentles Photographs Various
The Hot LockTin Auction raising money to keep this arts venue afloat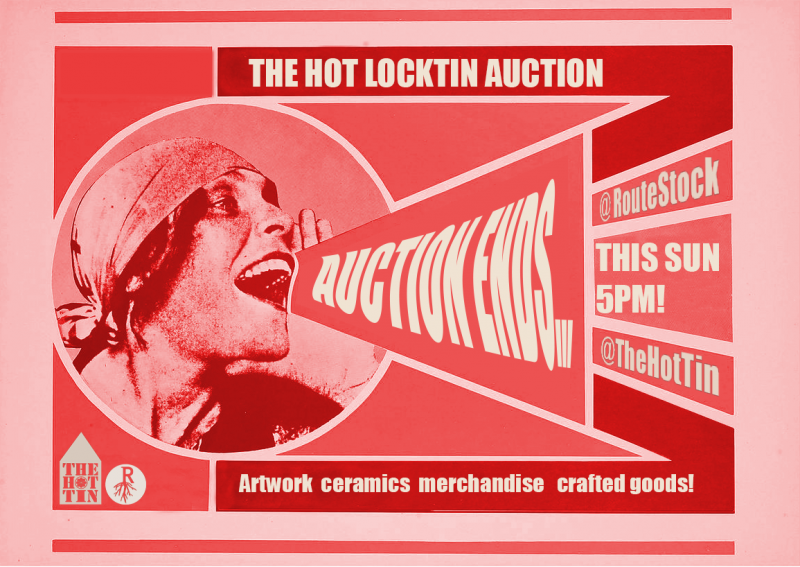 Legions of artists, musicians, craftspeople and even a gardener have given their work to The Hot LockTin Auction to raise money to keep The Hot Tin, Faversham's cafe and arts venue, afloat. The silent auction ends this Sunday 19 July at 5pm and anyone can make a bid online at The Hot LockTin Auction.
Top Hat and Tales books, hats and ice cream
Anyone strolling down West St in the past few weeks will have noticed the smart stall selling utterly delicious Italian ice creams outside Top Hat and Tales. Rachel Thapa-Chetri, the enterprising proprietor of the shop says: 'I have long wanted to sell ice creams and besides, my student son Milan needed a summer job.' On Saturdays, Milan will be in the Market Square by Richard's excellent plant stall. I urge you, reader to try out the ice creams, made by Macari's of Herne Bay. They are sublime. Chocolate, toffee, mango sorbet, and vegan vanilla are just a few of the flavours available.
Meanwhile, the selection of books for sale seems to have increased every time I visit the shop.  For those shielding or nervous about venturing out, the online service is available and Rachel is still happy to deliver by bicycle in Faversham.
#artistsupportpledge selling work to support artists and makers
Faversham artist Paul Fowler is taking part in the Artist Support Pledge to support artists and makers. The concept is that artists and makers can post their work for sale to any buyer at no more than £200. Once their sales reach £1000, they pledge to buy the work of another artist for £200. For more information go to www.artistsupportpledge.com
Vita Stores plastic-free and zero-waste kitchen shop
Vita Stores has opened in Harbour St, Whitstable. It is the sister shop of Frank, and owner Mary-Claire Smith describes it as: 'A plastic-free and zero-waste kitchen shop with store cupboard refills, kitchen products and handmade objects that are useful, beautiful and sustainable.'
Particularly enticing we thought are the neroli laundry liquid; apricot and fennel seed cordial; rye crumb, milk and sea salt chocolate; and ceramics handmade by Kent potters. Find the full range of goods at www.vitastores.co.uk
Ben Saul Classical Coffee Concerts
Before lockdown Ben Saul's weekly Saturday morning classical concerts at the Assembly Rooms were eagerly looked forward to by the town's music lovers. An enterprising chap, Ben simply moved the concerts online with singers and musicians giving performances from the comfort of their own homes at 10.45am on Saturdays.  They can be accessed live:  www.facebook.com/classicalcoffeeconcerts or viewed at your leisure www.youtube.com/classicalcoffeeconcerts.
Sticking to his belief that the concerts should be free for all, he masterminded a successful crowdfunding campaign with additional support from www.playinginfaversham. 'The concerts give the musicians a bit of a lifeline at a time when there are few opportunities for playing,' says Ben. He has also set up a patrons' scheme: www.patreon.com/classicalcoffeeconcerts for just £3+VAT per month.  
Looking ahead from  August 8 – September 27,  live classical concerts will be held underneath the Guildhall in the Market Place every Sunday at 3pm. Ben says: 'People are craving live music.  I keep bumping into people asking when concerts will be starting again.'  
The Fleur second hand books
The Fleur second hand bookshop in Gatefield Lane has opened its doors again. Opening times are Monday 10-1, and Tuesday to Saturday 10-3.30.
Lucy Rutter Faversham potter
Since we wrote about Faversham-based potter Lucy Rutter in June 2017, her work has been stocked by the international contemporary art dealers, Hauser and Wirth in über-fashionable Bruton, Somerset. More recently, her work has been sold by the clothing company Toast, darling of artistic fashionistas who snap up their well-designed clothes and accessories with gusto.  
'Toast found me on Instagram,' says Lucy. 'Their clothes are very much in keeping with my work, simple with no frills or patterns. They selected a teapot, two different bottles, two mugs and a jug from the samples I took to their office in Hackney.'  These are now sold out but Lucy currently is hard at work potting a new range for their next collection.
Text: Amicia and Posy. Photographs: various