A shop inspired by the stories behind objects.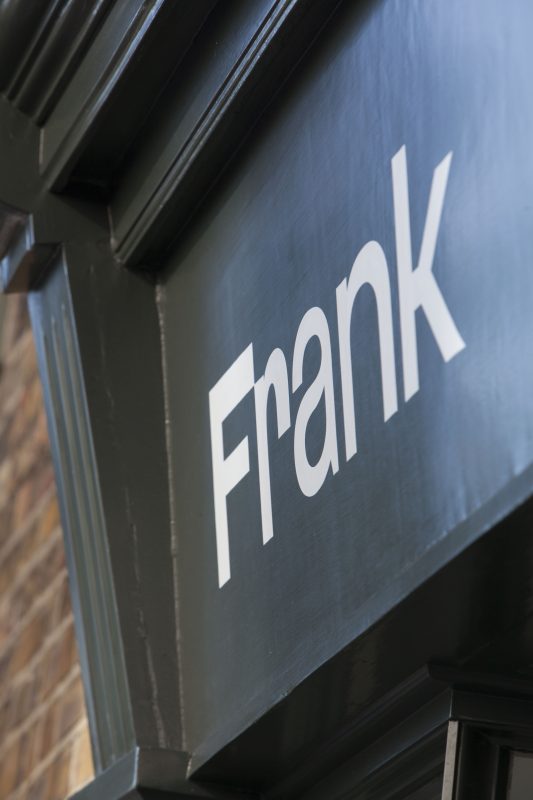 Frank, the dernier cri in elegant ethical living, inhabits a renovated 18th century fisherman's cottage at the top of Harbour Street, Whitstable. It's a shop where everything you buy is just rather more than it seems. Co-owner, Mary-Claire Smith, says: 'We have a passion for the handmade and the artisanal. We focus on small brands, individual makers, sustainability and ethical manufacture, inspired by the stories behind the objects and the creativity of the makers.
'At the moment, I'm massively inspired by Felicity Irons of Rush Matters.' Mary-Claire shows me a table mat made from bulrushes. The colours in the weaving vary from vivid mustard and orange, to soft blacks, greens and straw and honey tones. The development of the colour is entirely natural, depending on the weather during drying. Prolonged sun produces the warm honey colours, while windy conditions bring out the greeny-blues. The bulrushes are harvested, up to two tonnes a day, during the summer from the Great Ouse, Nene and Ivel rivers.
Mary-Claire tells me the story of Rowena Brown who compulsively makes the small ceramic houses of black clay arrayed on a shelf. Inspired by abandoned Hebridean crofts, she worked from her studio in London but now has decided to move to Iona to make herself a real house to live in, the design of which will be very similar to her ceramic designs.
'We sell sustainable items that you're going to love and value for a long while. I look for something more than the on-trend and fashionable.'
Frank stocks an excellent range of books: travel books, cookery books, art and design books, and illustrated children's books. There are cards, stationery and handmade wooden catapults with snazzy yellow elastic. Melin Tregwynt's blankets, inspired by traditional Welsh patterns in greys, yellow and navy, are piled on a white wire chair. There are racks of prints (some by Mary-Claire herself), and jewellery and ceramics. There is raw honey collected from hives on London rooftops and beautiful socks.
Mary-Claire's modus operandi is to work with artists and makers to create a specific range for Frank. Faversham ceramicist Lucy Rutter was discovered by Marie-Claire through our Faversham Life article. She is developing a range for Frank with a yellow glaze. Already there are bowls in soft purples and pinks and a black half-glazed jug, as well as her distinctive icing-sugar white glazes.
'I'm led by my heart, my intuition, not the market place,' says Mary-Claire. 'More and more, what we choose is directed by ethics. We are thinking about natural materials, not using plastics.' She brandishes her wooden pen.
Mary-Claire and her family moved to Whitstable 16 years ago. 'We didn't know anyone here. We just wanted a garden and to be by the coast.' With a background in fine art, print-making and illustration, Mary-Claire spent four years working freelance, then she and her partner found the 1790 fisherman's cottage in Harbour St and set about its renovation and the development of Frank.
How would she describe Frank? 'I didn't want to do a minimalist gallery. The business, like the name, is hard to pin down.' Mary-Claire sees it as a constantly evolving space. Sometimes Frank functions more as a gallery than a shop, sometimes it hosts workshops. 'It's a mixture – sometimes it can be taken over by one flavour, or one artist'. Mary-Claire explains that the ambivalence of the name Frank encapsulated this for her. 'It's a British name. I've got an old friend called Frank so I liked it for that reason. It's a franking machine. It means open and honest.'
At the end of last year, Frank was rebranded with a new logo and shop front. Typically there is a story behind this. They approached their friend Peter Wilberg, whose design work they admired. He created Frank's typeface from a font created by his grandfather Walter Breker in the early post-war years. Breker was one of Germany's leading poster designers of the time. Wilberg says: 'This redrawn "Frank" typeface reflects the positive mood of the modernist, post-war era in continental Europe before the dominance of the less playful and sometimes dogmatic typefaces used in the Swiss "international" style such as Helvetica and Univers.'
Where's Frank going now? Mary-Claire says: 'We're going to try to be plastic-free and use only natural materials.'
Text: Posy. Photographs: Andrew Hayes Watkins
SaveSave
SaveSave
SaveSave
SaveSave
SaveSave
SaveSave
SaveSave
SaveSave