Faversham Life interviews a doyen of advertising photography who also portrays Thames barges and Faversham people.
Words Sarah Langton-Lockton Photographs Peter Smith and Lisa Valder
The portraits, many of them black and white and some in colour, line the walls of the hall and staircase in Peter Smith's cottage in Belvedere Creek. They form a gallery of Faversham faces, captured for their character by a photographer best known for his commercial work in a long and successful career in advertising.
The sitters, all local people whom Peter knows, range from the very young to the rather old. Some are pillars of society; others are mavericks or downright rascals. Peter has the knack, possessed by all good portrait photographers, of acting on that fraction of a second when a camera-shy sitter relaxes and tension drains from their face. 'I love to photograph people,' says Peter. 'I have to bend their arms a bit to make it as pleasant as possible.' Peter gives a print to each sitter but charges no fee. His photographic portraiture is an altruistic pursuit. There really should be an exhibition; these are wonderful portraits.
Peter studied graphic design at Folkestone School of Art. 'I then went on to work in London for advertising agencies for the next ten years, which I loved,' he says. He worked mainly for the big American agencies, and particularly enjoyed the photographic sessions. Then he was asked to join a small splinter group as a designer and to do photos as well. 'The late 60s were very exciting times,' he recalls. 'You could apply for a job, and you got it.'
In 1974, the three-day week came along. 'We worked for the government, so we had a special dispensation to use electricity. We did advertisements such as the one on sharing a bath to save water.' Peter's next step was to go freelance. Still in London, he rented a studio in Old Street for £2,000 a year. The warehouse is now worth £12 million. 'It was artists,' comments Peter, 'who developed the area, who sought out old premises and created atmosphere and brought back life into them.'
After nine settled years the lease ended and Peter moved to Victoria. 'It was a really nice little studio, an old shop.' He was there for 20 years. 'One day, just after I'd moved in, it was raining hard, and there was a man standing there, whom I invited in. He turned out to be the marketing manager for BP. Next day he gave me a job. He became our biggest client.' In the 1980s Peter settled in Faversham and commuted to London. He and his then wife went house hunting: 'We kept on coming south until we could afford something. Faversham just clicked, it was lovely.'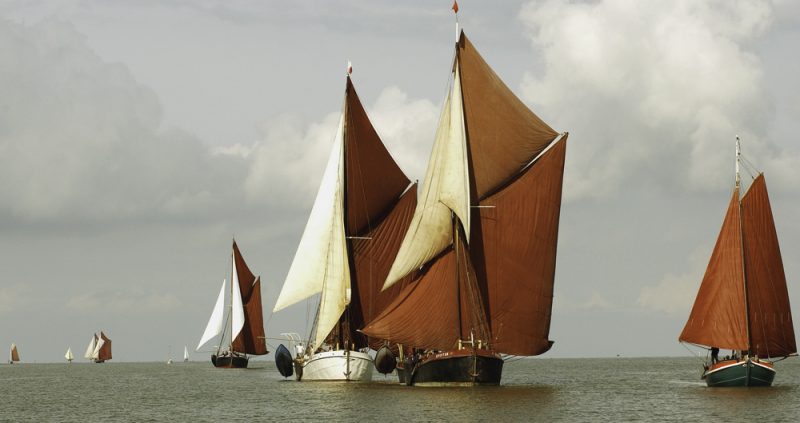 At first, Peter had a place in Upper Brents – he had always wanted a large studio – but with advances in modern technology, much less space is now required. His studio in his cottage near Faversham Creek is compact – 'my computer is my darkroom,' says Peter. There are also what Peter describes as 'table-top bits and pieces' and some compact but impressive lighting equipment. 'If I need more space, I can hire studios, in Creek Creative, for example.'
Past and present clients include Tate Modern and Tate Britain, Canterbury University, New College, University of Oxford, Maidstone-based advertising agency, Pillory Barn, and Simply Swim in Faversham. There was regular work for TV Times, which included early shots of Mary Berry, and lots of corporate portraits and promotional notebooks. Peter has won awards, including Industrial Photographer of the Year, a construction industry award presented at the House of Lords. 'I received £200,' says Peter, 'and by the time I had bought a suit and paid for my hotel, I was out of pocket.'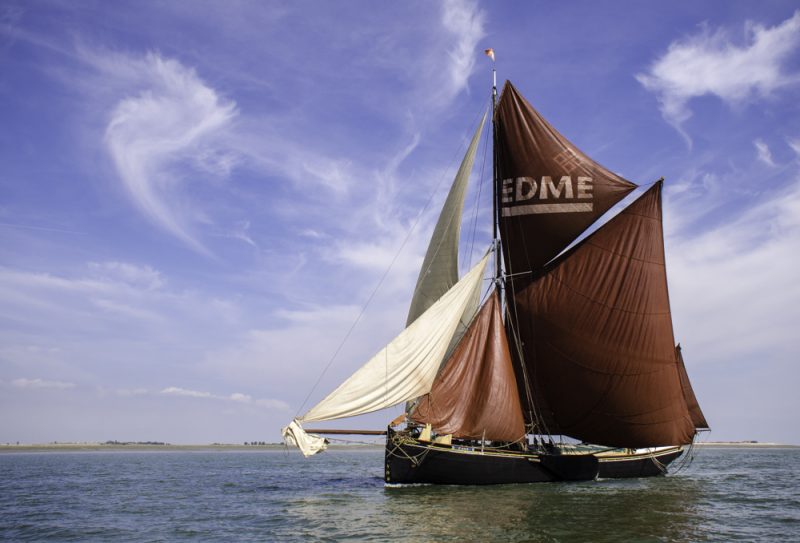 Living in Faversham sparked an interest in sailing – Peter still has a small sailing boat – and a love of Thames sailing barges. 'They were the juggernauts of their day,' says Peter, until roads became the means of transport rather than the sea. Restored Thames barges with their magnificent red sails can still be seen in the Swale Estuary and compete in annual sailing matches. Peter also photographs landscapes and Kent's atmospheric and exhilarating coast and marshes.
Finally, as the second of two enjoyable conversations drew to an end, Peter announced his plan to demonstrate his approach to portraiture by photographing me with Harold, my wayward miniature wirehaired dachshund. Harold was briskly persuaded to adopt his required pose by tiny slivers of camembert and we were off. The result is full of life and laughter, as was the event.
Words: Sarah Langton-Lockton. Photographs: Peter Smith and Lisa Valder