A wander around Faversham with a keen looking at the buildings makes it apparent that several medieval timber-framed buildings survive, some of them very ancient indeed
Words Amicia de Moubray with special thanks to Jonathan Carey. Photographs Lisa Valder
One of the great glories of England is the profusion of different vernacular architectural styles to be found in each region of the land. Kent rejoices in a wealth of  timber-framed buildings due to the lack of locally available building stone, except flint and occasional Kentish ragstone. Wood, principally oak, with some Spanish chestnut, was extensively used inland but less so at the coast which is too exposed for its use. Half-timbered buildings have delighted generations.  There was a picturesque revival of the style in the later years of the 19th century and the first half of the 20th century.
Over the centuries, many timber-framed houses have been plastered over. It is fun to spot examples of this practice. One notable example is The Bull Inn on the corner of Tanners Street and West Street. 'They would have been terribly draughty,' says retired conservation architect, Jonathan Carey, a resident of Faversham. 'The gaps between the timber frame would have been filled in with hazel twigs and straw, before an outer layer of cow manure mixed up with clay. Inevitably the panels would shrink and expand according to the vagaries of the climate, thus creating draughts.'
Faversham boasts more than an astonishing 400 listed buildings. Here is our selection of a few of the town's ancient timber frame buildings.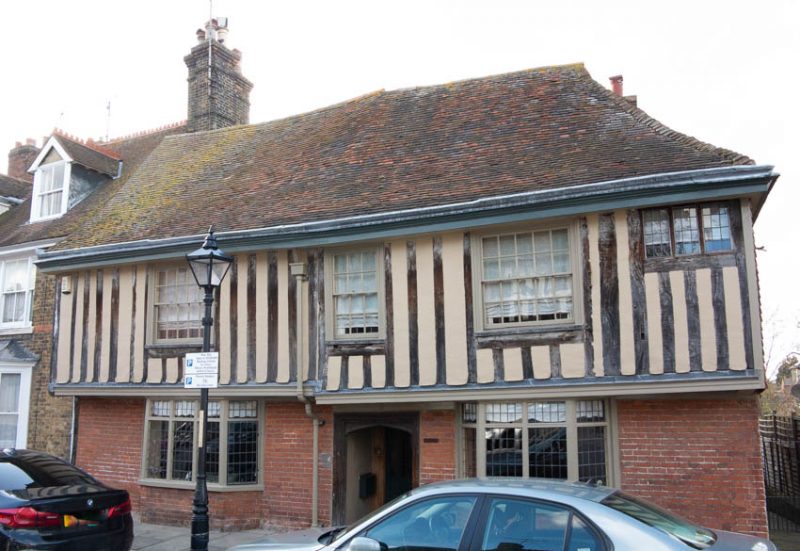 The Old Globe, Abbey Street dates from 1519 with early 19th century glazing. It was once an inn.
Why not take a lockdown walk meandering through the town delighting in its rich architectural history.
Text: Amicia de Moubray. Photographs: Lisa Valder