Faversham Life delves into the history of the Edwardian garden at Lees Court designed by Thomas Mawson.
Words Amicia de Moubray Photographs Amicia de Moubray, Jane Hannath
The Edwardian history of Lees Court, a couple of miles from Faversham, is worthy of a period TV drama: a catastrophic fire, a wealthy widow, a son with an American wife, an Earldom, Freemasonry, the occult and a garden laid out by Thomas Mawson, at the time head of the largest British and international landscaping design practice.
Today Lees Court is divided into flats, but the imprint of Thomas Mawson's original vision is still clearly discernible.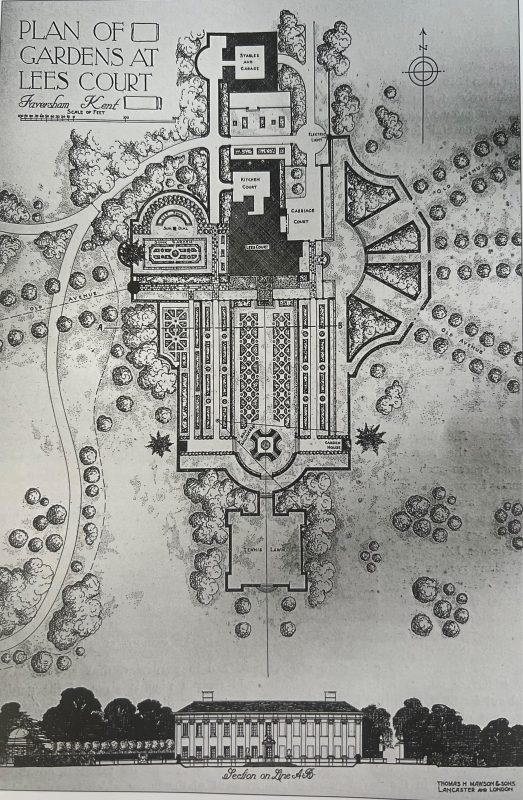 It is puzzling why T H Mawson (1861-1933) is no longer celebrated. His book The Art and Craft of Garden Making, ran to five editions (first published in 1901) by 1926. It is a marvellous book brimming with copious line drawings of all manner of garden ideas as well as photographs. He had numerous commissions both civic and for country houses all over Britain, Europe and Canada and was involved in the development of the Smokey Mountains National Park in America. President of the'Royal Town Planning Institute in 1923, he was the first President of the Institute of Landscape Architects in 1929.
Lees Court, a somewhat austere handsome house, was built in 1652 for Sir George Sondes.  Like other aristocratic seats of that period it had extensive formal gardens. These can be seen in a 1719 engraving of a bird's eye-drawing of the house.
Our story begins following the death of the 2nd Earl Sondes in October 1907.  Like many other landed families, the Sondes had almost certainly been hit by the agricultural depression at the end of the 19th century. Now further hit by crippling death duties it was decided to look for a tenant for the mansion. At that time, it was a widespread practice to rent country houses, as in L.P. Hartley's classic The Go-Between. It was a win-win for the Sondes heirs as tenants were expected to make structural renovations and pay for any alterations to the gardens.
The search for tenants began almost immediately as it is recorded that in late 1907 John Leigh and his mother Marion Leigh were in negotiations February the Leighs declined to proceed unless they could have a 21-year lease.  Eventually a 14-year lease was agreed.
Marion Leigh (1861-1927) is a fascinating character.  She was the daughter of Hugh Antrobus, Chairman of Coutts Bank, and a descendant of the Earls of Crawford.  She attended the famous Devonshire Ball held in 1897 to celebrate the 60th Anniversary of Queen Victoria's coronation, dressed as a Lady in Waiting to the Duchess of Genoa.  The 700 guests had to dress in allegorical costume or historical, pre-1815, costume.
Marion was installed in the Chair of the Lodge Golden Rule 1 in 1909. The following year she re-married to Reginald Halsey, Deputy Grand Master of United Grand Lodge (1903-1927) in 1910. (Her first husband, Captain Gerard Leigh had died in 1900).
She devoted her life to promoting Freemasonry for women.  She was also interested by the occult and was a member of Stella Matutina, one of the secret magical societies that existed at that time to study occult science, western philosophy and magic.
John and his mother wasted no time before enlisting Mawson's help landscaping the gardens. Over the years the Sondes had been more interested in pursuing sporting activities – shooting parties and cricket – leaving the land clear for Mawson's scheme.
He sent a general plan of the garden to Gertrude Jekyll to suggest a planting plan.  Her notebook dating from 1909 to the autumn of 1910 has thirty pages devoted to lists of shrubs, annuals and perennials for herbaceous borders and an iris garden.
Work on the new garden had already begun when on the night of 26 November 1910 a chimney fire broke out which rapidly took hold, just leaving the walls.  The south east front collapsed the next day.  Happily, the house was insured. The courageous decision was taken to rebuild,. bringing it up to date with the latest mod con – electricity. Edward Hoare and Montague Wheeler, London architects were entrusted with the project.,
From the air Mawson's extensive design is still clearly visible over a century later. The terrace on the south side looks out over the extremely long sunken grass walk bordered on either side by pattern beds of box and rose.  The vista ends in the far distance with a statute of Mercury rising up from a pedestal in a basin framed by four concave clipped yew hedges.  Each cavity on the outer side of the yews is filled by curved stone seats. It was a skilful way of subtly creating a variation in levels.
'Mr. Mawson's chief obstacle to success was the uncompromising flatness,' wrote Christopher Hussey in Country Life. 'The surroundings of Lees Court were of a forbidding character.'
Mawson writes in his book, 'Most terrace schemes fail through the lack of decisive and marked terminations than from any other cause'.  Not so at Lees Court.  All too often 'terraces are allowed to "fade away" as it were into less conventionally planned portions of the ground' opines Mawson.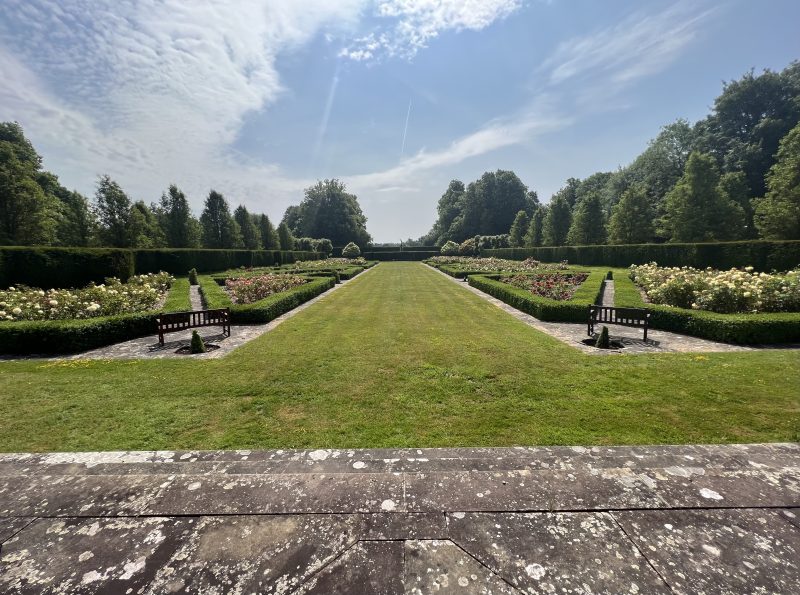 Mawson was clearly a man devoted to strict order as the following quotation from his book testifies: 'There are, of course, many capacious minds true to the characteristics of the rough-and-tumble Briton, whose ideal is absence of regularity, and who prefer that everything shall be spontaneous, fresh and warm from the fountain, with nothing in any sense of the world conventionalized…. It may be taken as an axiom that the immediate surroundings of an English home must, before all things, possess and express a spirit of restfulness, a quality secured most effectively by means of a formal terrace scheme.'
The other smaller sunken garden on the west façade survives to this day as does the crescent behind it.
The pollarded limes remain along with the pleached lime walks. Alas most of the herbaceous borders are long gone. In periods of drought the outlines of the borders are visible.
John married Helen Goudy, daughter of William Judd Goudy of Illinois in 1913.  By then he must have been well established at Lees Court. One wonders what influence if any his new bride had on Lees Court.
Lees Court was used as a hospital in the First World War.
The gardens at Lees Court are not open to the public.
If you want to find out more about T.H. Mawson seek out:
Thomas Mawson, Life, gardens and landscapes by Janet Waymark, published by Frances Lincoln in 2009.
The Art & Craft of Garden Making by T.H. Mawson published by Forgotten Books (Classic Reprint) in 2018.