The Tin Tab Exhibition comes to Faversham this weekend. Faversham Life was invited to the pre-preview.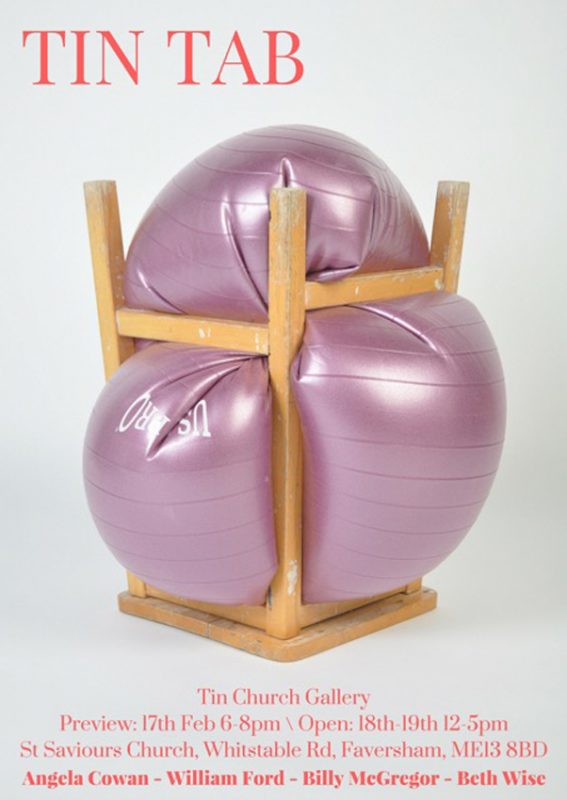 Four artists from the West Country are showing their extraordinary and exciting work in St Saviour's Tin Church this weekend. Faversham Life filmed and listened to the artists as they set up. We were moved, shocked, astonished, amused and fascinated by their sculptures, photographs and videos.
The four artists, Angela Cowan, William Ford, Billy McGregor and Beth Wise, share a studio but work independently.
Billy McGregor's work has been described as 'melancholy yet humorous'. He likes to 'play around' with incongruity, placing things out of context. He is showing his 'Misplaced' series of photographs which mine his memories of cold childhood British seaside holidays and the oddly heart-rending emptiness of chairs. Billy's arresting 'Busting' has illustrated the poster for the Tin Tab exhibition.
William Ford's work is often masochistic, using his art as a reliquary for the vulnerability, carnality and bestiality of man. The video loop of 'Six Pints of Milk' is ambiguously reminiscent of waterboarding torture and fellatio. William's work is shocking but again there is amusement. His 'Hairy Palm' sculpture has that surreal quality of being disgusting yet hilarious at the same time.
William's 'Settle/Unsettle' might be disturbing – giant spheres that shift and moan – but instead are rather comforting, like two simple creatures constantly adjusting to one other.
Angela Cowan describes her work as 'intuitive and organic'. In her 'Impression' series, she has created ceramic shapes coated in wax which have a cool smoothness, ivory-softness in colour and settle sensually in the hand. Angela says: 'I work with natural materials like clay and wax. There is an exchange between the viewer and me. My art is tactile and needs to be held and given life. The shapes were made by my hands and it sets up a tension to see how they will fit into the viewer's hand.'
Beth Wise explores 'the highly complex relationship between humanity and the animal kingdom'. She is concerned with the ethical issues of eating animals and the hypocrisy surrounding it that exists in our society. 21st century children gnaw on chicken nuggets, wodged together from factory-scrapings of the remains of factory-grown chicken, while still garnering their information about meat production from looking at illustrations of pre-war farms where hens scratch around the farmyard.
Beth's knitted and crocheted figures were inspired by a visit to Indonesia where dead family members are dried in the sun on bamboo poles and dressed for parade in an August festival. She has written and photographed a book which is part of the piece.
Most of the artists' pieces are meant to be handled and touched. Response is essential to this exhibition. Some pieces are for sale.
Tin Tab is previewing tonight (17 February) at 6pm – 8pm. It is showing on Saturday and Sunday (18 and 19 February) from 12pm – 5pm. All are welcome.
The exhibition is at St Saviour's Church (aka The Tin Church) Whitstable Rd, Faversham ME13 8BD generously offered as a venue by artist/benefactor/plumber, Nick Kenny.
Text: Posy. Photography: Lisa