Faversham Life visits the Paris-inspired art gallery and shop which has opened in Preston Street.
Melissa Pickering moved to Paris when she was 21 to study life drawing for six months. She found it a wonderful experience (who could not!) and was overwhelmed and inspired by Parisian 'concept' shops such as Colette and Merci. Deciding that her future lay not in selling her own art, but selling other people's – 'Having been an unsuccessful artist myself, I understand how easy it is for an artist to under-value their work' – Melissa flew back from Paris, passed a paranthetic couple of years in an architect's practice, before opening 19. Preston.
19. Preston first announced itself in Faversham with a mysterious card on the door of the defunct charity shop at 19 Preston Street at the beginning of the year, asking for local artists to 'contact this number'.
With the imagination required to see through the charity shop window display of a mannequin dressed in a flowered dress, a hat over its blank face and the rails stuffed with clothing beyond, Melissa had seen this shop was perfect for her Paris-inspired vision of a 'concept shop'.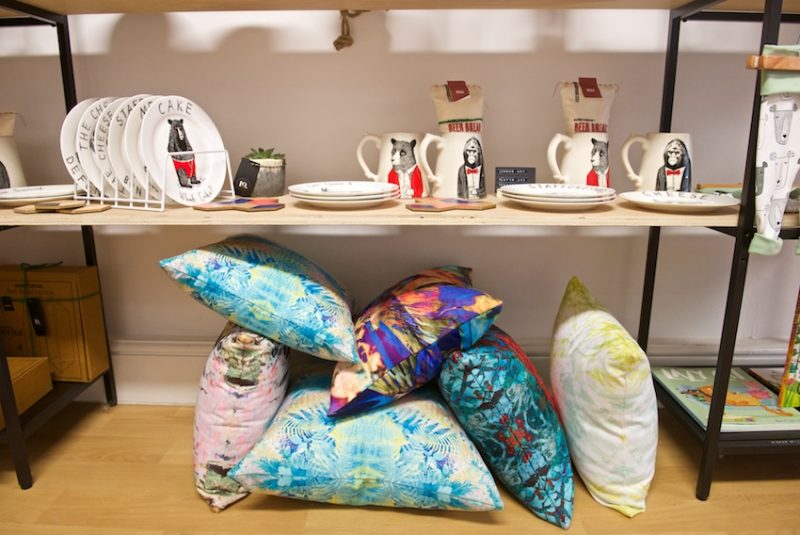 19. Preston is a combination of gallery and shop. It is light and airy and painted white throughout. Artists' work hangs against a backdrop of vintage and modern, well-chosen objects which are placed sparingly and command attention. Melissa says: 'I sell art and design products that have been thought out like a piece of art.' On the ground floor, there are vintage art books, paintings, shelves of simple and exquisite bowls and cups made Lucy Rutter and others. There are soaps, cushions, jars of Kent honey, candles and earrings, and fabulous wrapping paper that is too good to cut up, rather you would want to stick it on your walls, and recycled and recyclable birthday cards.
There are stacks of vinyl records with crazy covers from a less 'cool' age, and a listening booth to sample them – a rather groovy space, with a black wall, a record player and nothing else. Each item is allowed space to shine. Melissa says that arrangement is very important and that each carefully chosen piece must deserve its space. 'If you put bad art next to good, the bad drags the good down.'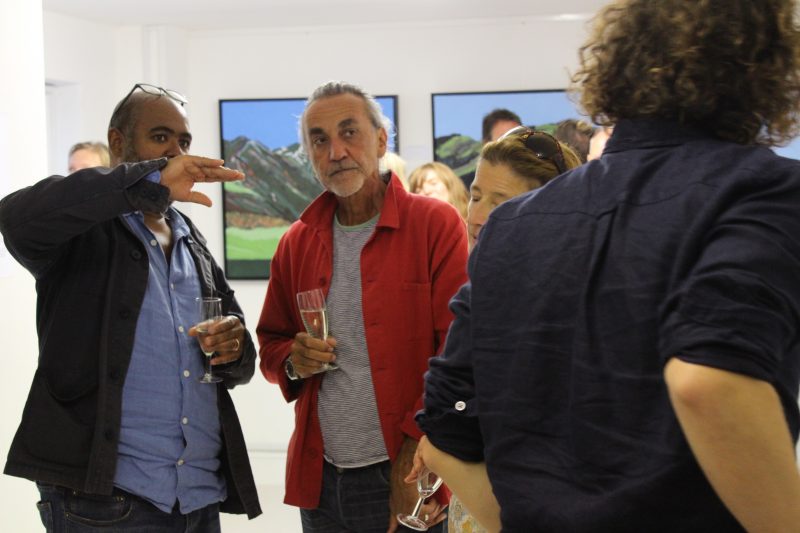 The secret of the property is the space upstairs. On the first floor are two rooms which can function as one long, bright space with windows at each end, a wide window at the front to look down on Preston Street. Christopher Blunkell recently exhibited, and a photography exhibition by Faversham resident, Paul Joyce, film maker and photographer of notables such as Samuel Beckett, Dennis Hopper and Dirk Bogarde, is scheduled for November.
The space is also used for classes. Fable and Base held a print-your-own tote bag course. This weekend, you can learn to make a lino cut with Nick Hughes, who is following up the class with a dry point etching class on 7 October. There is drama for children with the Big Voices Drama Club on 1 October. Each month, The Secret Drawing Club with its 'unique brand of life drawing tableaux vivants' holds a session here. Tomorrow, you can drop into 19. Preston to eat cake for Macmillan Cancer Support.
Melissa is passionate about creating artistic opportunities for children. She says: 'It's an essential part of education. You need to to learn to think creatively for problem-solving.' With artist Amanda Thesiger 19. Preston offers after-school and holiday art classes. 19. Preston offers a space for the creative and imaginative and Melissa is keen to work with artists to realise their ideas. This is a shop not just selling objects but presenting possibilities of action and creativity.
Find details on 19. Preston's Facebook page.
Text: Posy. Photos: Lisa, William Ford, Minna Ford
SaveSave
SaveSave
SaveSave
SaveSave
SaveSave
SaveSave
SaveSave
SaveSave
SaveSave
SaveSave
SaveSave
SaveSave
SaveSave
SaveSave
SaveSave
SaveSave