Faversham Life is excited by the intriguing church tucked away from the centre of town on Tanners Street.
The church was originally built as a Quaker school in 1861 for the female children of the directors and foreman in the local gunpowder industry.  The school closed in 1907. The building was acquired by East Kent Cinemas in 1910 and converted into the Empire Picture Hall, showing only silent films until 1931. In those days, long before television, there was great demand for the cinema: it had three showings an evening 6, 7.30 and 9pm, with 3pm matinees on Thursday and Saturday. In 1936, Father Elias Lynch of the Carmelites purchased it and the adjoining fine early 18th century house built by John Gilbert, a tanner whose tan yard is now the site of the church car park, (hence the name of the street). The house is now the Presbytery.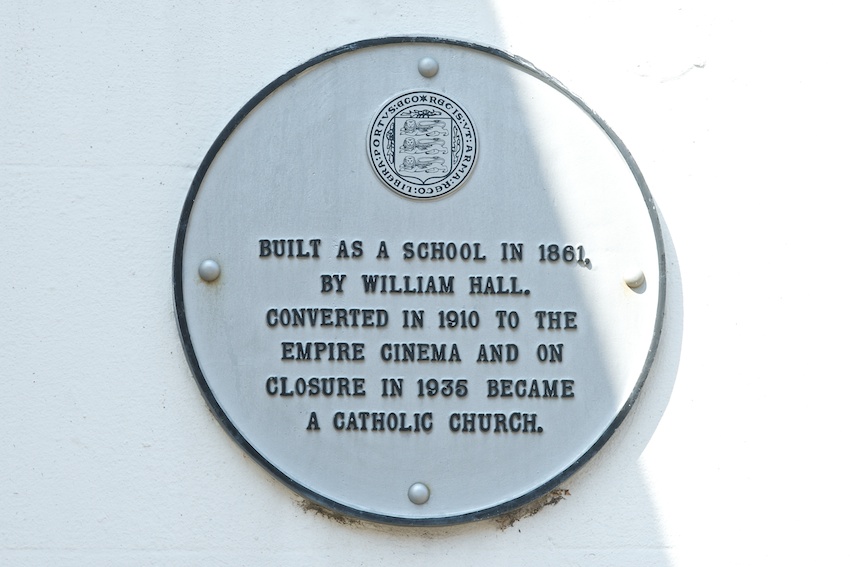 The church was opened in the following year and has an interesting amalgam of fittings. The schoolroom was adapted for worship, with a large triptych altarpiece by the celebrated 20th century artist, Edward Ardizzone (1900-1979), depicting the Presentation in the Temple and the Visitation. His distinctive style must be indelibly imprinted on generations of children reared on the numerous books that he illustrated, the best loved being the 'Tim' titles. He was also an official war artist during the Second World War at the bidding of Sir Kenneth Clark.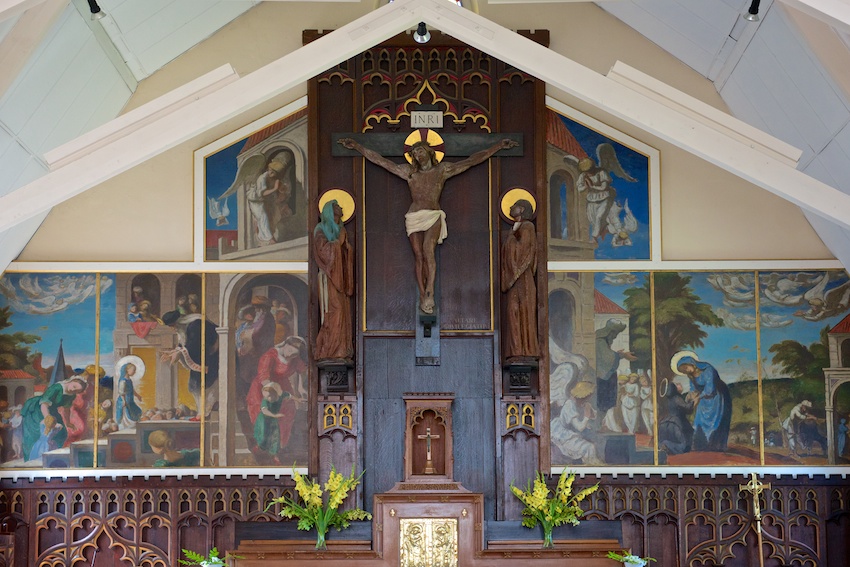 His brother, David, a solicitor, who lived in Rodmersham, often entertained the local catholic clergy. The late Nicholas Ardizzone, Edward's son, (who lived in Faversham) remembered 'the deal' being struck over a bottle of wine one evening at his uncle's house. It is believed that the paintings were commissioned at the behest of Princess Andrew, the wife of Prince Andrew Romanoff of Russia, who lived in Provender, near Faversham. According to her daughter, Princess Olga, her mother did not like the pictures that Fr Elias Lynch, the Parish priest since 1933, had bought for the church. 'Fr Lynch and my grandmother would go on buying trips together', recalls Princess Olga. No doubt the oak panelling around the church, from the old Church House, Dean's Yard in Wesminster, which was demolished in 1936 to make way for the new Church House, was acquired on one of these outings.
The initial work for the altar panels was executed in Ardizzone's London studio on large sheets of paper and then traced on boards which in turn were painted in oils. Clearly inspired by Italian Old Masters, the colours are reminiscent of Veronese. He drew compulsively and had phenomenal visual recall,' said Nicholas. 'He also loved anatomy, which explains why he was able to capture stance so perfectly.'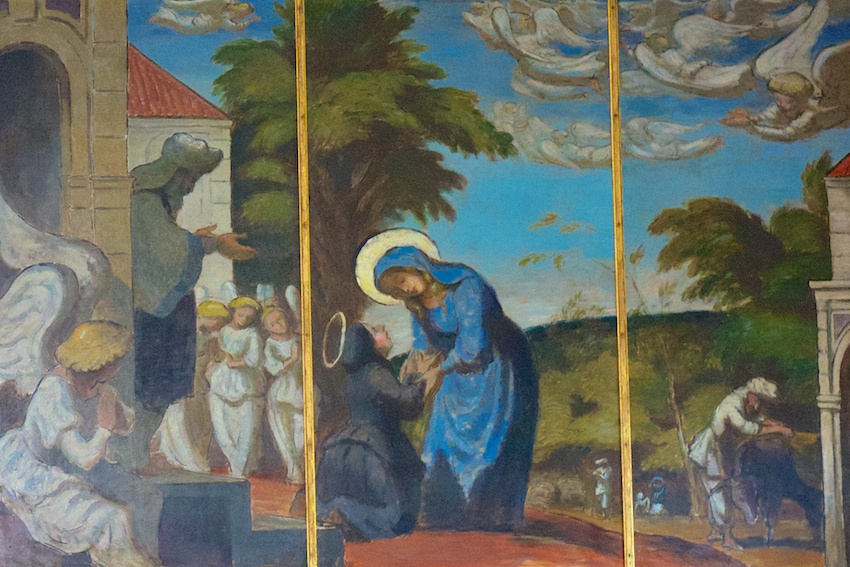 Other fittings of interest are the carved saints by a carver from Rochester School of Art, stained glass windows by the Irish artist Richard King (1907-1974), and a striking font by Anthony Foster.
Ardizzone: A Retrospective
22 September 2016 – 22 January 2017
House of Illustration www.houseofillustration.org.uk
2 Granary Square
Kings Cross
London N1C 4BH
Text: Amicia. Photography: Lisa