Alex Law takes the chair at The School of Upholstery.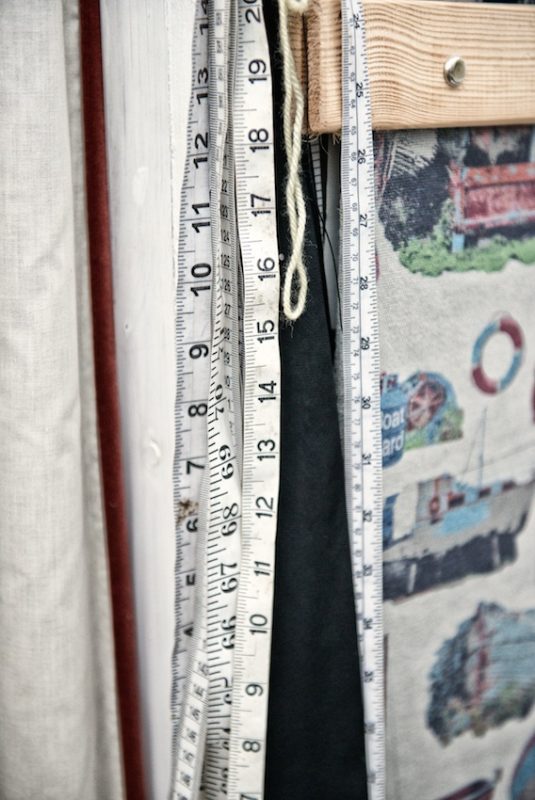 Alex Law is a man of vision and passion – and his medium is upholstery. When I first knew him, I visited him at the London Metropolitan University where he was Lead Tutor of Advanced Upholstery. Forget Colefax and Fowler, Alex showed me a traditional wing chair upholstered by one of his students in tartan and an entire fox pelt – head, brush and all. His pupils learn how to shimmy through boundaries, brandishing a webbing stretcher and clenching tin tacks between their teeth.
The birth of his daughter convinced Alex that the daily journey to London from Faversham was too much wasted time, so two and a half years ago, he set up The School of Upholstery and is now teaching classes at Faversham's Creek Creative. With no more than five or six people in a class, Alex allows his students to work at their own pace and 'choose their own level of engagement with the upholstery'. For example, one student arrived with an inherited chair, quite unusable and in need of restoration, but felt qualms about losing its familiarity and personal history. Alex suggested including a 'history pocket' inside the chair to hold pieces of its original fabric and stuffing and other sentimental effects.
Alex has always explored around his subject, studying cabinet-making to develop his understanding of upholstery. 'Now being at Creek Creative and surrounded by all these creative people, there is so much inspiration,' he says. Alex has started to make textiles – not just design them but make them so they are 'fit for purpose', to meet this country's stringent safety regulations for upholstery fabrics. He has created a design called Boatyard, which is digitally printed from a series of photographs he took at Faversham Creek. There are a number of colourways: sombre grey to sweetshop pastels. 'Digital printing on to textiles is very new. I'm trying different fabrics. It's still all quite experimental. But with fabric design, I think it helps being an upholsterer – you're used to working in 3D.'
Alex has created extremely groovy pieces of furniture with the Boatyard fabric, covering 1940s stacking chairs and office chairs. These can be seen on the website, The London Chair Collective, with other extraordinary and unique pieces. Or go down to Standard Quay and see them at Benedict's of Kent Vintage Audio and Coffee Lounge.
He is also developing a range of modular furniture so that students taking his classes can put together an original piece as easily (probably more easily) than putting together a piece of Ikea furniture.
This summer, The School of Upholstery will be expanding its portfolio of classes, inviting guest tutors to Faversham. In July, Armand Verdier, a French upholsterer who studied at the Ecole Boulle, the college of fine arts and crafts and applied arts in Paris, will take a five-day course teaching French upholstery techniques. Alex says it seems the obvious thing to do as so much French furniture arrives in Faversham with its thriving antiques trade and easy access to the Continent.
'The course will coincide with Faversham's monthly antiques and vintage market and Alex and Armand will take the students around the market to examine and discuss the furniture on the stalls.
The School of Upholstery will also be inviting Paul Tucker to run a three-day course in August on furniture restoration – an essential skill for the upholsterer; there's no point in tacking webbing on to a rickety chair.
Alex is a Faversham boy. He was apprenticed at the West St furniture shop, Sitting Pretty – now a private house. Sitting Pretty sent him to study for his City and Guilds at the London College of Furniture in Commercial Rd, Shoreditch (which became the London Metropolitan where Alex later became lead tutor).
Then came what Alex describes as his 'journeyman years'. He went to Shropshire to study furniture design and cabinet-making, spent six months in Canada, came back and got into advising and researching furniture manufacture.
In 2006, he started teaching at the London Metropolitan and in 2008 (in collaboration with Posy Gentles) wrote his first book, Quick and Easy Upholstery.
This was followed in 2015 by The Upholsterer's Step-by-Step Handbook: A Practical Reference. The book with its fine drawings and detailed instructions and descriptions is a bible for the upholstery student. It typifies Alex's approach. He may be working on digital textile fabrication at present but at the root of his work are the traditional materials and methods of upholstery – the tacks, the springs, the black and white webbing, scrim and hessian. There is a particular smell to upholstery that all students will know. 'The book's about the whole ethos of upholstery,' says Alex. 'I didn't even get on to buttoning.' He's already working on a follow-up book.
If you ask Alex to re-upholster a piece of furniture, you will very likely find yourself, ripping chisel thrust into your hand, delving into springs and horsehair. Alex's days of re-upholstering furniture are past: 'I'm really into empowering people to do it themselves.'
Text: Posy. Photography: Lisa
Book upholstery classes at The School of Upholstery at schoolofupholstery.com