A guided forage and three-course fireside lunch at Belmont House
Words Nell Card Photographs Lisa Valder and Nell Card
We are about 10 minutes into our first Wild Classroom experience when my four year old is handed a sharp knife. Naturally, he is delighted. We are standing in the asparagus patch in the kitchen garden at Belmont House – an 18th-century house and estate in nearby Throwley. Graeme Watts, the head gardener, is overseeing the harvest and supervising the small group of children who are waiting patiently to cut the slender green spears. 
Next, we move on to the herb garden, where the children – all under 10 – are encouraged to pluck frothy fennel fronds, rosemary sprigs and flowering chives. 
We then head to the pristine rhubarb patch. Again, Graeme demonstrates how to harvest the crop. The group work their way around the patch, plucking the bright pink stalks from the ground, removing the leaves and adding them to their burgeoning pile of squeaky-fresh produce. 
Our baskets full, we follow Graeme down a rhododendron-lined path to a clearing in the trees known as The Spinney. Here, we meet Scott, the founder of Wild Classroom. He is breathing life into a small campfire where the children will be shown how to prepare and cook their own three-course lunch. 
There are several tables set out with chopping boards, knives and cups of elderflower cordial. Whilst Scott sees to the fire (which is fuelled by chestnut and birch wood from the estate), his partner Sarah, hands out the ingredients for our first course: lettuce, radish, herbs, mozzarella and asparagus spring salad. The children are told how to prepare the ingredients and take it in turns to place them on the griddle over the flames, under Scott's careful supervision. 
In no time at all, we are eating our first course: a starter scattered with delicate edible flowers that truly wouldn't look out of place in any top-notch restaurant that champions fresh, seasonal, local produce. 
'I'm not a chef, I'm a teacher,' explains Scott. An erstwhile primary school teacher with two decades' experience in the classroom, Scott has also studied children's literature. His capacity to engage and enthral his audience is immediately apparent: the kids are attentive and fully immersed in the experience – and they are learning first-hand where food comes from, and how good it tastes when it has just been plucked from the ground.
Plates cleared, we move on to the next course: a quick and simple stir fry made in a vast cauldron that hangs from a chain above the flames. Again, the children do all the prep: grating carrots, chopping mushrooms, cabbage and asparagus and making a zingy sauce of honey, freshly squeezed lemon, soy sauce and ketchup. The beansprouts were one ingredient too many for my 4-year-old ('Too crunchy!!'). Everyone else gobbled it up, adults included.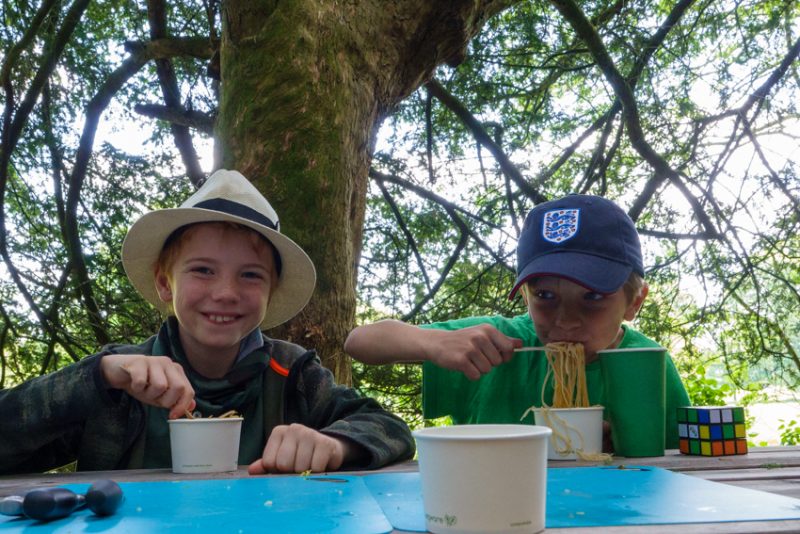 Scott launched Wild Classroom two years ago and gained enough momentum before lockdown to access a handful of lucky local schools, where his hands-on approach to food has captured the imaginations of teachers and pupils alike. For primary school children, the Wild Classroom experience reinforces the curriculum and brings learning to life. 'Often the ingredients we use and the recipes we make reflect the relevant topic,' Scott explains. 'That might be the Vikings, the Romans – or Ernest Shackleton.' He recalls a recent experience involving sea biscuits and dried meat fat balls …
For dessert, the children chop up the rhubarb stalks and tumble them into a cast iron pan with a sprinkling of sugar and some grated orange zest and juice. While that simmers over the embers, they whisk together a large bowl of pancake batter from six eggs and a mountain of flour. Moments later, Scott is expertly flipping pancakes on a fire bowl, whilst kids and adults are spooning rhubarb jam on to plates. Shackleton's survival diet is not a patch on today's menu.
When he's not teaching in schools, Scott's Wild Classroom can be can be found at venues across the county. Look out for him at the Wealden Literary Festival at the end of June and at Brogdale later in the summer. He will also shortly be announcing new dates at Belmont House. Beansprouts or not, we will be the first to return.
Text: Nell Card. Photographs: Lisa Valder and Nell Card