Faversham Life throws on a pinny and learns to bake with Bake Off winner, Jane Beedle
Words Posy Gentles Photographs Peter Smith and others
Jane Beedle has opened a cookery school, Jane's Kitchen, at Monkshill Refectory in Waterham just outside Faversham. On a Saturday in darkening late October, Faversham Life joined Jane's bakery class and soon found itself scraping up and slapping down a gleaming wad of enriched dough as though born to it, and understanding exactly why Chelsea buns are so calorific. Laid out below us, visible through the vast plate windows, were Seasalter Marshes and views across Sheppey, the beautiful bleakness contrasting with the warm, golden, buttery, sugary atmosphere of the class. The odd peacock stalked past, practising its finery.
By the end of the day, I had learnt that you can whisk through flour instead of sieving it, and that if you crumple your baking paper before putting it in the tin, it stops it tiresomely arching out again. We had also made chocolate babka, a savoury tear-and-share savoury bread, chelsea buns and baguettes. And none of it looked like anything I, who has bashed out a fair number of loaves in her time, could ever have imagined making. I was astonished when, following Jane's cutting and twisting, I created what you see below.
Although classes have been put on hold during this month of lockdown, vouchers for future classes can be ordered on the Jane's Kitchen website and would make excellent Christmas presents – if you are not waylaid in your purpose by recipes such as Chocolate and Dulce de Leche Tart, and homemade Jammy Dodgers which also feature on the website. Jane says: 'We started planning the Refectory just before the first lockdown so we've been able to design it to meet distancing and hygiene demands.' She says the aim of the school is to make cooking accessible and fun: 'We want to keep the classes small so that everyone gets plenty of hands on time and leaves with the confidence to recreate the dishes or bakes at home.'
Jane Beedle arrived in Faversham two years ago, preceded by her fame as a finalist in the 2016 Great British Bake Off. She has thrown herself into Faversham life with bravura. As well as opening The Monkshill Refectory, she opens the garden she has created in The Mall (she is also a successful garden designer) for Faversham Open Gardens and the National Garden Scheme. Faversham Life wrote about it in Jane Beedle Designs her New Garden in June 2019.
'I came to Faversham under duress. I wanted to stay in South London,' she says. 'But we needed to downsize and my husband Ray was smitten with Faversham and buying a boat. Now I can't imagine living anywhere else. I've been made to feel so welcome and have never been happier. Even as the removals lorry was unloading, Jemima a little girl from down the road, came up to me and gave me some homemade brownies.'
This was 2018, the year Jane won the Christmas Great British Bake Off Special, despite the fact that she was in the midst of creating a garden and replacing the kitchen in her new Faversham house: 'I had to bake cakes in the lidded barbecue in the garden and explain to my puzzled builders why I was putting penguins and snow on my cakes in September.' This was also the year that Jane ran the London Marathon as part of The Baker's Dozen, all Bake Off contestants, to raise money for Great Ormond St. What a woman!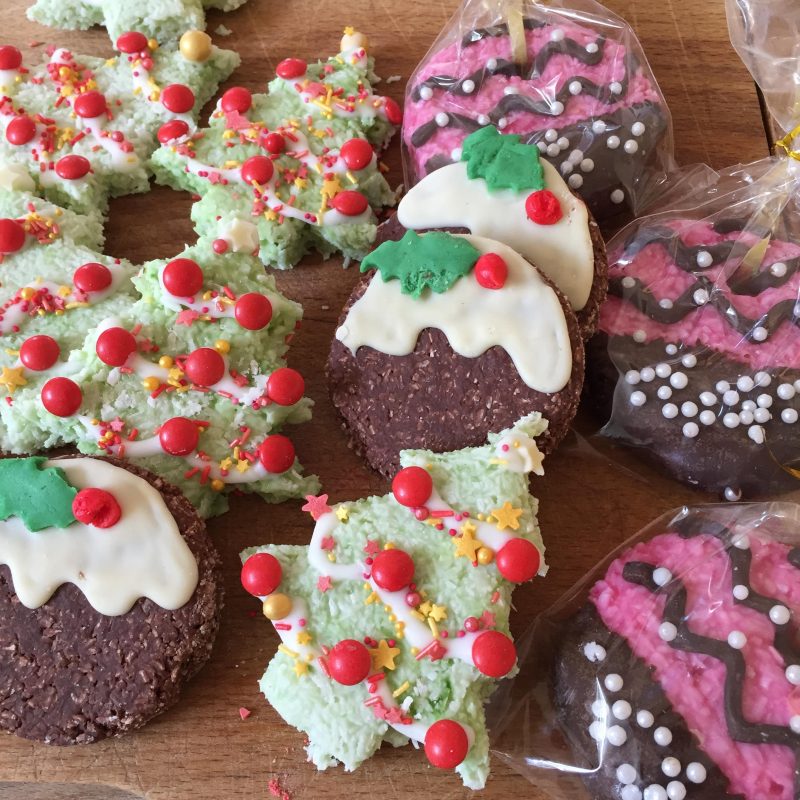 Jane studied Maths at the University of Kent and had a career in advertising, then children and a second career in landscape gardening, but baking got her in the end. It's in her blood. Jane was born in Hastings where her grandfather owned a bakery, Henry King & Feaist, and several cafes supplied by the bakery. Like Jane, they won baking competitions. 'They won the Dundee cake prize, beating Scottish bakeries. He was so proud.'
Jane says: 'It was a real old-fashioned bakery. I remember my grandfather bringing us brawn and sausage rolls at Christmas. My father was being trained to take over. It was amazing for us kids. He used to bring home lovely birthday cakes. In those days we didn't have hot cross buns until Good Friday and my father would be up baking all night. In the morning he'd come home with hot cross men for us.
'It must be where I got it from – Dad liked all the flourishes. It was the decoration of cakes he loved most. Even if he made us cheese on toast, he'd add something like a daub of ketchup with a pea in the middle.'
Jane's father died at 90, having heard that Jane had been selected for the final of Great British Bake Off, although sadly he just missed being one of the 17 million viewers of the final episode and seeing Jane on the front of the Radio Times.
Jane says that she didn't start baking properly until she was at home with her children. 'I was a horribly competitive mother. I wouldn't let children ice their own biscuits because I thought they'd mess them up. French and Saunders did a sketch . . . I recognised myself.' When the children started school, Jane and her friend Harriet, reluctant to return to their respective careers in advertising and PR, decided to set up a gardening business. Harriet, a fan of Bake Off, and of Jane's cakes and biscuits, persuaded Jane to watch the series, which she as yet hadn't, and apply. 'It looked such good fun and I thought, there's no point in sitting back and wishing, so I gave it a go,' says Jane. 'I loved every minute of it! It was rather lovely at 60 to suddenly be in the limelight, whisked around in limousines with people wanting to take your photograph.'
She says: 'It was really the start of my baking and gave me the confidence to make up my own recipes. As well as running Jane's Kitchen, Jane now appears on the Bake Off podcast, The Bakedown, and on Bake With a Legend, taking Zoom classes, even teaching Americans to make doughnuts. Jane's Instagram @janebbakes, has more than 50 million followers.
In lockdown, many of us have felt the urge to tie on an apron and get weighing, mixing, rolling and kneading. How fortunate Jane Beedle has come to Faversham.
Text: Posy. Photography: Peter Smith and others
See Faversham Life's article about photographer Peter Smith